USS Connecticut was built by New York Navy Shipbuilders, laid down March 30, 1903, launched September 29, 1904 and commissioned September 29 1906 with Captain W. Swift in command.  Miss A. Welles, granddaughter of Gideon Welles who was Secretary of the Navy during the Civil War, sponsored her.  Joining the Atlantic Fleet, Connecticut became flagship on April 16, 1907, and later that month joined in the Presidential Fleet Review and ceremonies opening Jamestown.  The photograph above is by C. A. .Waterman of Chicago and is approximately 28" long.  This photograph was taken, I believe, in San Francisco, before the ship rigged the names.  I have a second photograph of the fleet in San Francisco by Waterman that seem to indicate they were both taken at the same time.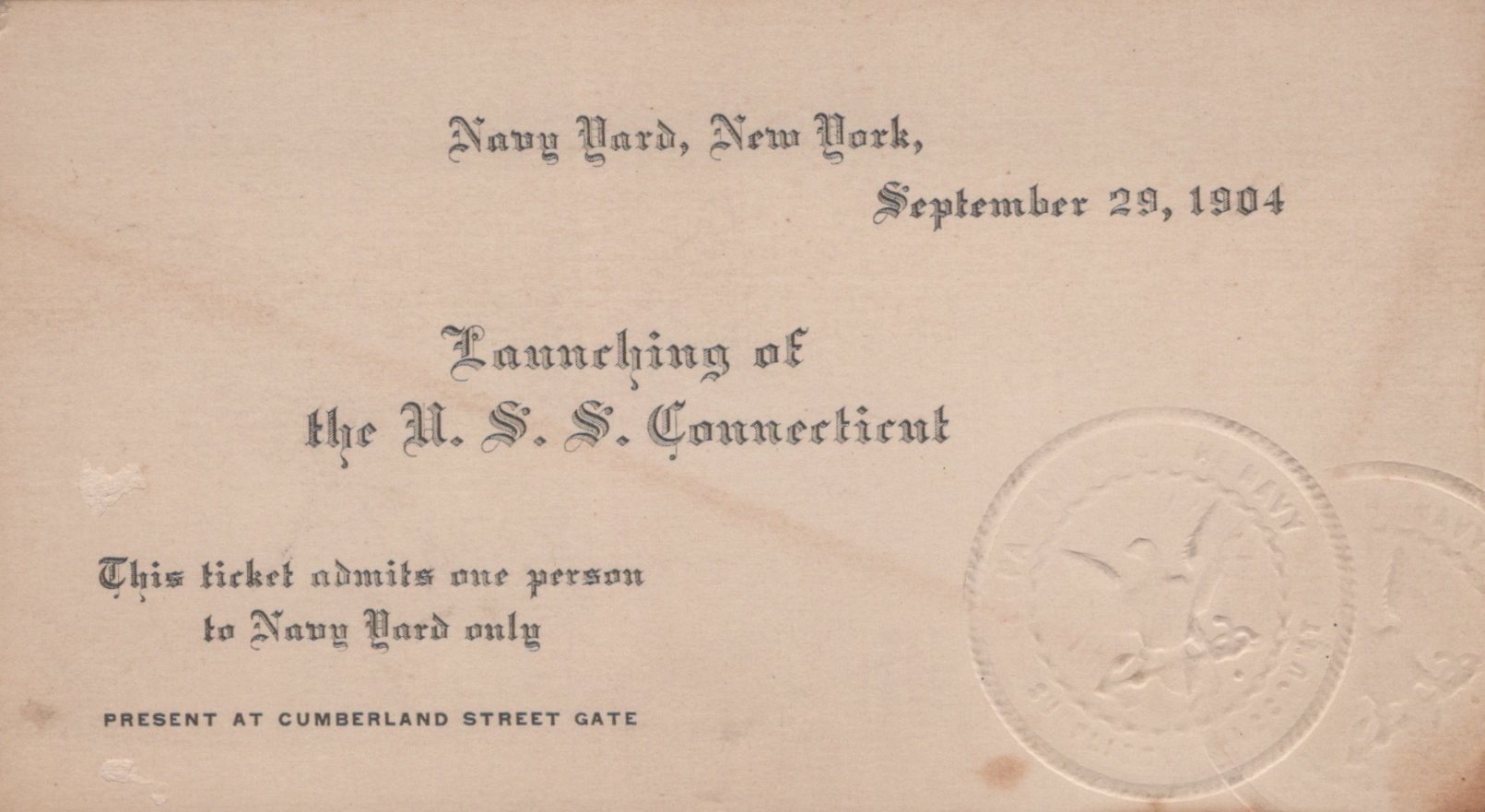 launching of the uss connecticut
A ticket to enter through the Cumberland Street Gate to see the launching and a "Model USS Connecticut Propeller" probably a gift to a senior person at the shipyard or naval officer.  Includes the launch date and "HP. Cyl 32-1/2, IP -53. 2 LP. Each  61. Stroke 48.16.500 HP"  Size is approximately 6" wide and 5" high on swivel base.
flagship connecticut
From the moment she joined the fleet she was a star.  On December 16, 1907, she sailed from Hampton Roads and the Flagship for the largest battlegroup ever assembled for such a voyage.  On May 8th, 1908 she passed through the Golden Gate to a hero's welcome and a review by the Secretary of the Navy.  The salt and pepper shakers at left we a product that would have been available as a souvenir for people who came to see the fleet in San Francisco.
sea trials
This iconic photograph by Enrique Muller is by far the most famous photograph of the USS Connecticut.  It was taken while in a small boat while the ship passed dangerously close.  This postcard image was also produced in large format images that were framed and sold for many years.  For more of Enrique Muller's photographs visit photographers on this website.