Mail call. Every sailor loves to get a card from his girlfriend at mail call. Time at sea is worlds away and nothing feels better then getting a card from home just reminding you of where you are from and that they still remember you. Nellie McAleer of Huntington Long Island at the Edgewater Hotel was a great person to have in your corner when it came to sending cards. She new how to warm a sailor's heart!
---
This set of cards represents the typical set of cards that went between a sailor and folks at home. They sent local and greeting cards and he returned cards about his ships and where he was. The cards between Art Benefield (Ben) and Nellie, his cousin, started quite tame, but it is not long before they are sending messages on postcards in Morse code. The last card is one of the first cards Ben received from Nellie while on the cruise, dated January 22, 1908 with a receiving cancel onboard the USS Rhode Island.
---
These cards are all received onboard the USS Rhode Island on January 22, 1908. It was the first day that the fleet receive mails since departing Hampton Roads.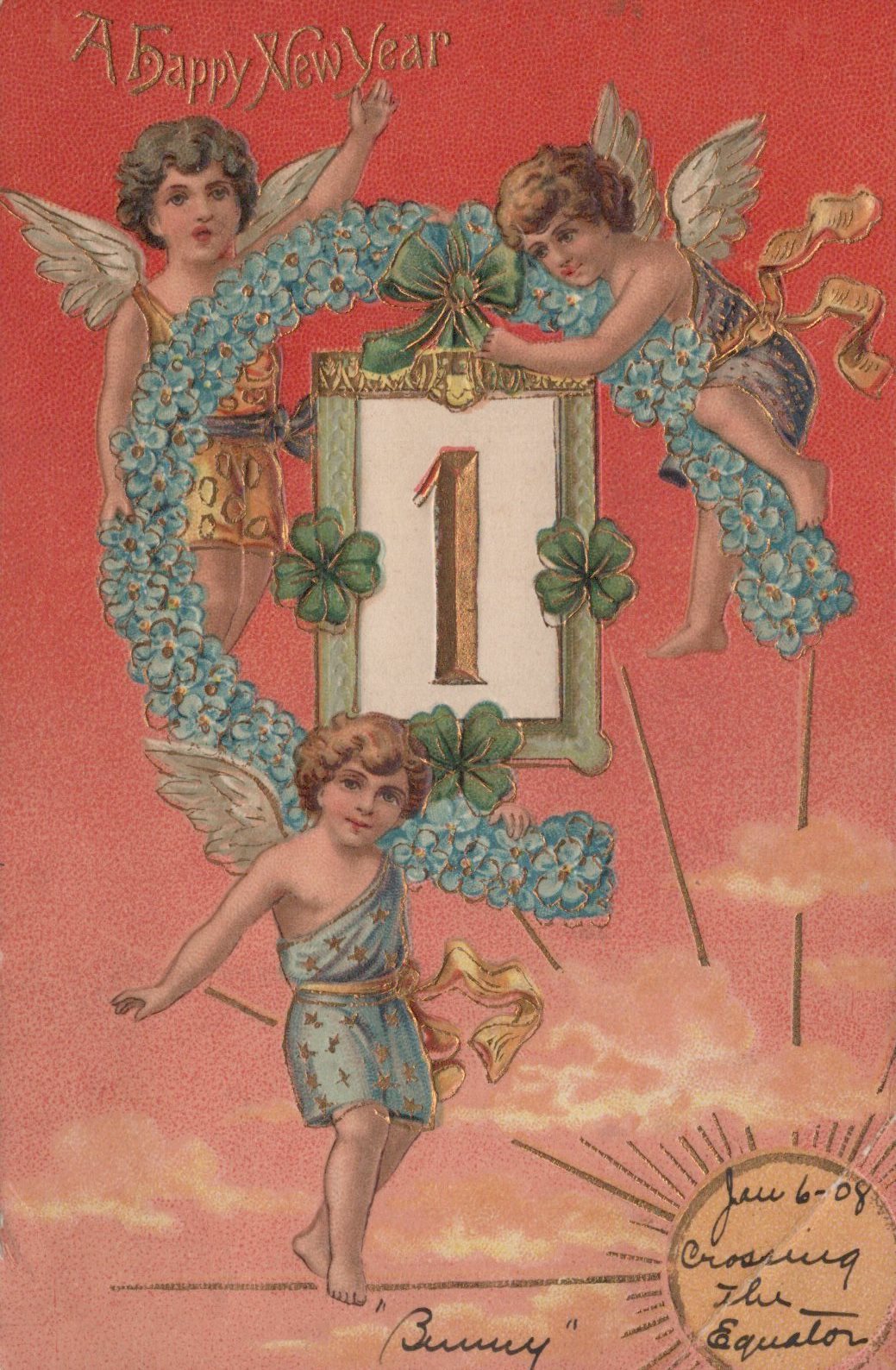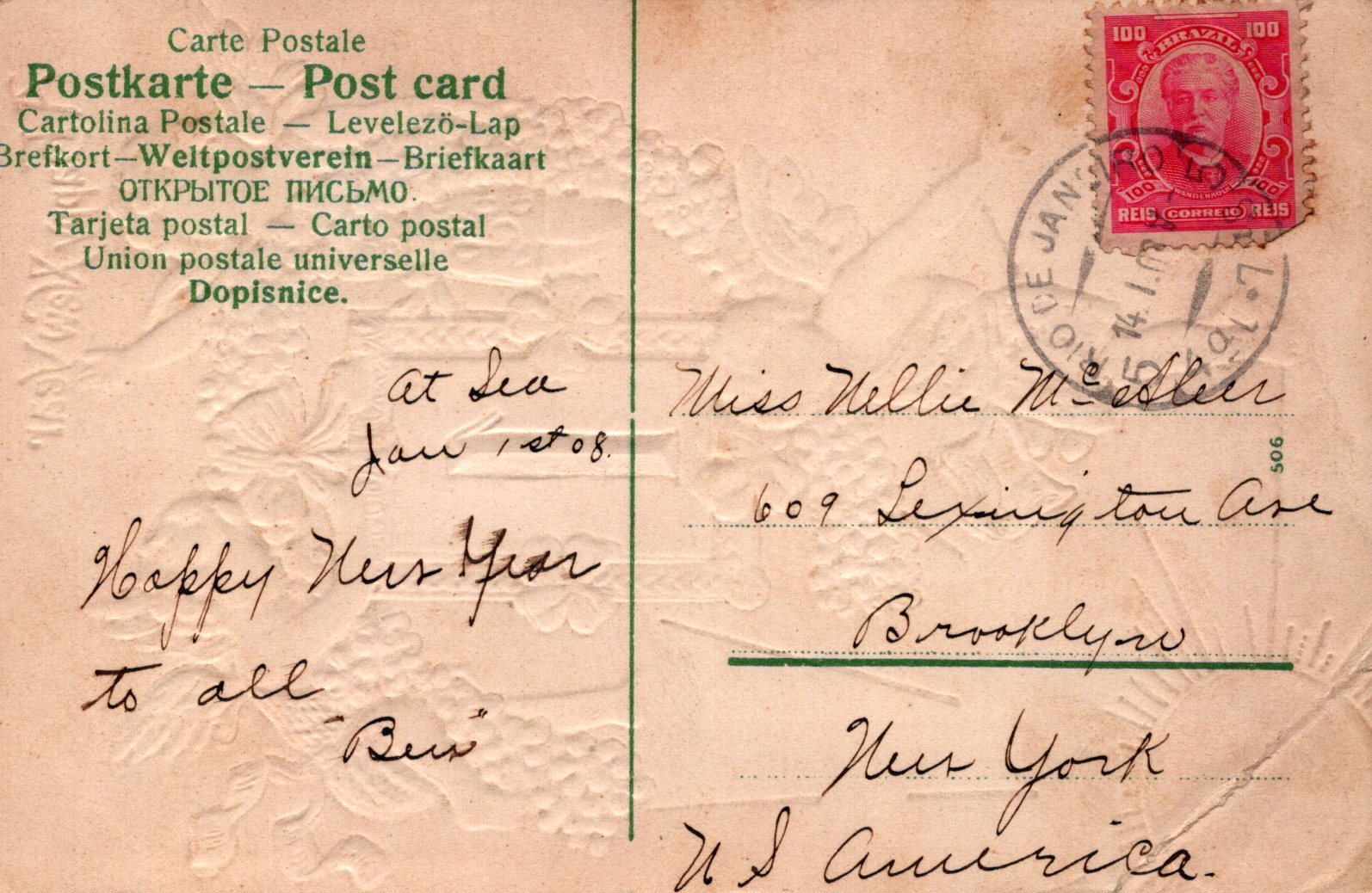 This is a great "collector's card." Cancelled in Rio De Janeiro, "Benny" writes, January 6th, 08, Crossing the Equator. "At Sea, January 1st, 08, Happy New Year to all, Ben" This card is a foreign card and possibly he picked it up in Rio or had remembered to bring it with him before his departure from Hampton Roads.
---
The cards below from Nellie show the Rhode Island next received mail on February 28th and again on March 12th.
---
As the fleet arrived in California the mail was received on a regular basis and these card have receiving cancels that are days apart. By this time, Ben and Nellie had switched to there own code. Apparently, Morse code was not sufficient to keep the conversations private. This is a great group with cards being received and sent from California and Washington. There are three cards in the Seattle area showing Mt. Rainier.
---
This next group of cards are from Hawaii, including a card received in Hawaii on July 6, 1908. This group of cards are part of what make this collection special.
---
There are few cards from New Zealand, Australia, or Japan. That's because I was unable to keep the collection together while bidding on ebay. This collection was listed one-card-at-a-time and had to be bid for each card. This is an unfortunate part of collecting. Sellers get more money by listing a collection individually. However, I was able to get a few cards here and it does round out the collection nicely!
---
I was successful in getting this nice series of card from Manila. There are a couple of gems in here, the Santa Cruz Bridge with a street car, and the dry dock "Dewey" in Olongapo. The USS Dewey (YFD-1) was a floating dry dock built for the United States Navy in 1905, and named after Admiral George Dewey. it was towed to station in 1906 and remained in service until being scuttled by American forces to prevent capture by the Japanese in 1942. She was built in Solomons, Maryland on the Patuxent River and made her transit to the Philippines via the Suez Canal.
---
The USS Rhode Island was in Second Division under Admiral Wainwright. When they arrived in the Mediterranean Sea they went directly to Marseilles to visit the French. Ben followed the philosophy "if you are only going to send one card, make it a good one!" The below card Souvenir de Marseille is my favorite card for the port visit to France. The small handbag on the lower portion of the card is made of real leather!
The time the ship was transiting from Asia to the Mediterranean was also the time of Thanksgiving, Christmas, and the New Year. Nellie was a great card writer and sent a special card, or two, for every occasion.
The below group of cards were sent and received on board USS Rhode Island on the dates indicated. At this point in the cruise, the fleet had been away from home for more than 13 months and cards were greatly appreciated, all of them.
---
After leaving France the ship went to Gibraltar where Ben did get ashore long enough to mail a few cards. The below group is from the same series and shows different views of Gibraltar.
---
The final group of card from Nellie, you are on the home stretch, Washington and Lincoln's birthdays, and a new President was elected!
Not Found
Apologies, but no results were found for the requested archive. Perhaps searching will help find a related post.