---
---
It really didn't start as a "Cruise Around the World," rather as more of a diplomatic mission to the Pacific to bolster the American presence.   It was extended as a way to bring the fleet back to Hampton Roads and to show the flag to the nations of the world.  With 16 battleships and numerous support ships, the trip was an amazing feat, and a first.  As Teddy Roosevelt said, "Other nations may do what you have done, but they will have to follow."
This page provides links to portions of my collection from the port visits of the cruise.  It is composed with single items vs. items from group collections which are displayed in the correspondence, and series card portions of the website.  Where it is necessary to understand the context of the card I have displayed both sides of the card.  Building this site is an ongoing process, and, I will continue to post new items from my collection to these area as the weather gets colder, and less and warm weather returns.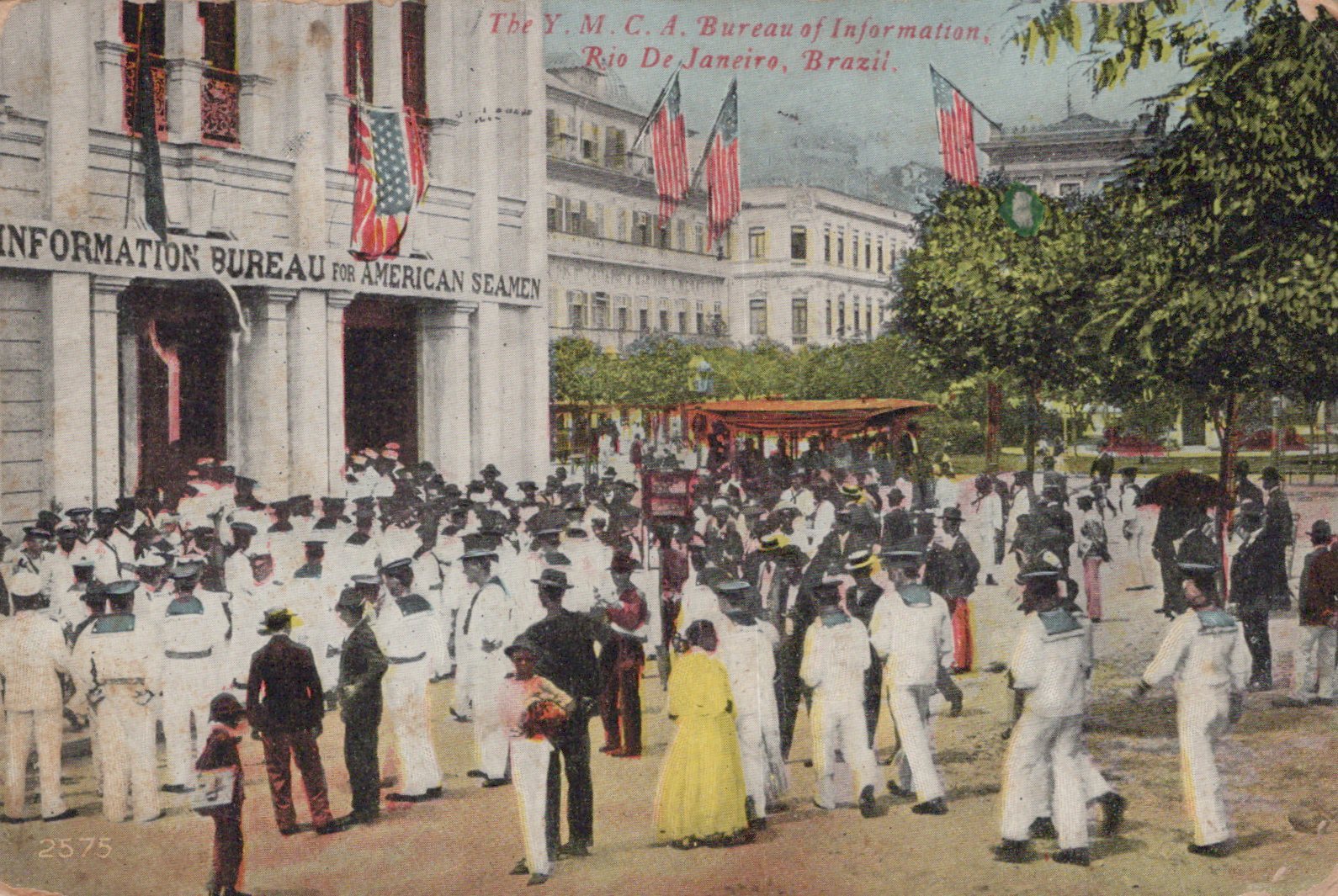 The fleet tracked their journey in the same fashion as the early discovers.  Crewmembers created diaries and records of their adventures and sent and saved postcards as one of the most popular ways to remember where they had visited.  At right, part of series of postcards issued by H. H. Stratton, sailors gather at the YMCA Building in Rio de Janeiro in Brazil.
The Pacific and South China Sea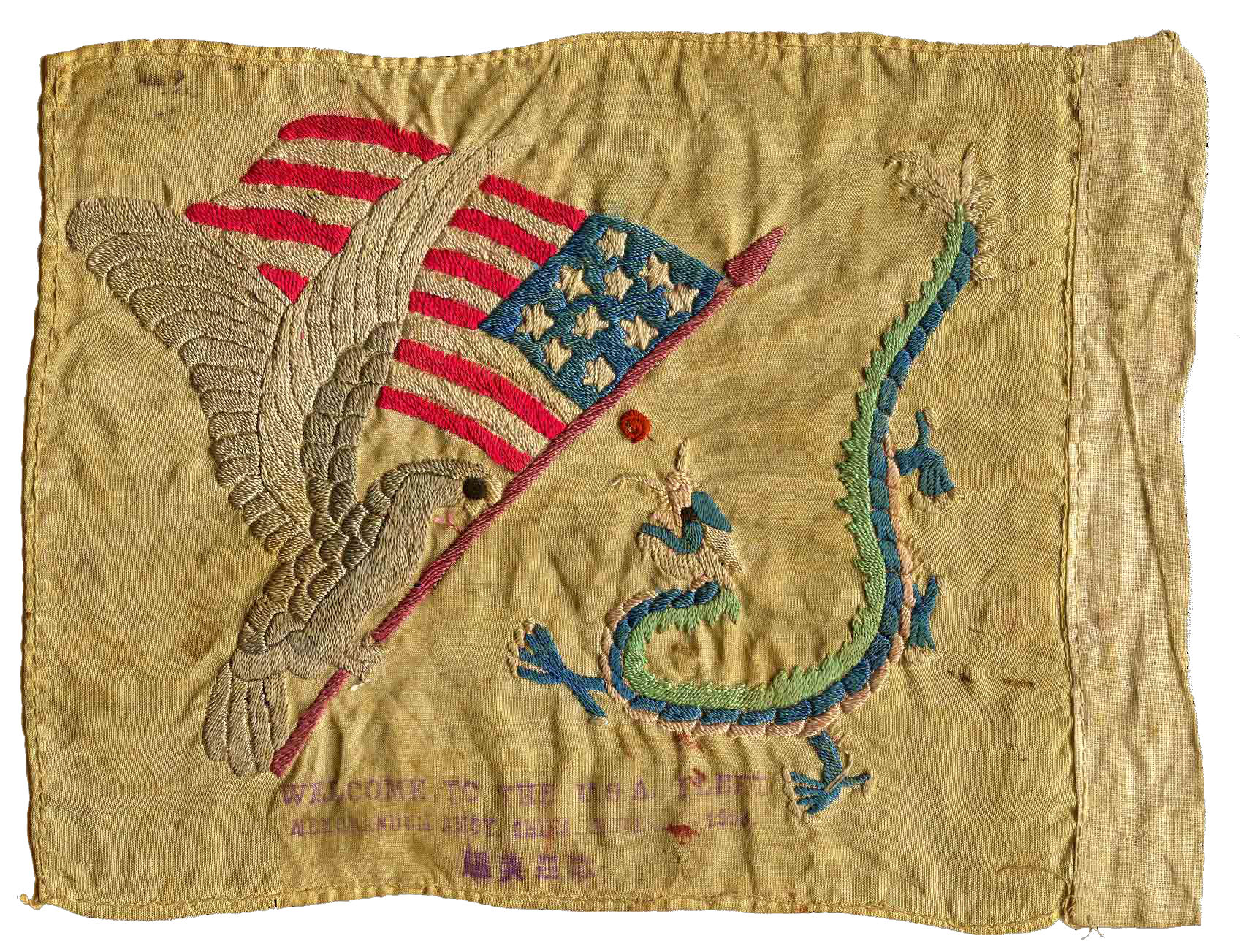 The cruise was wildly popular.  The opportunity to create souvenirs in the United States and all over the world was huge.  America was already good at this, having created thousands of items for the Spanish American War and the sinking of the Maine.  With our great spirit to make a buck, everyone who could make a postcard, a little medal or ribbon, glasses, ashtrays, toys, playing cards, hankies, and stereographs.  We made them all.
At left is a souvenir flag made for the visit of the Second Squadron to Amoy, China.
Through the Canal and into the Mediterranean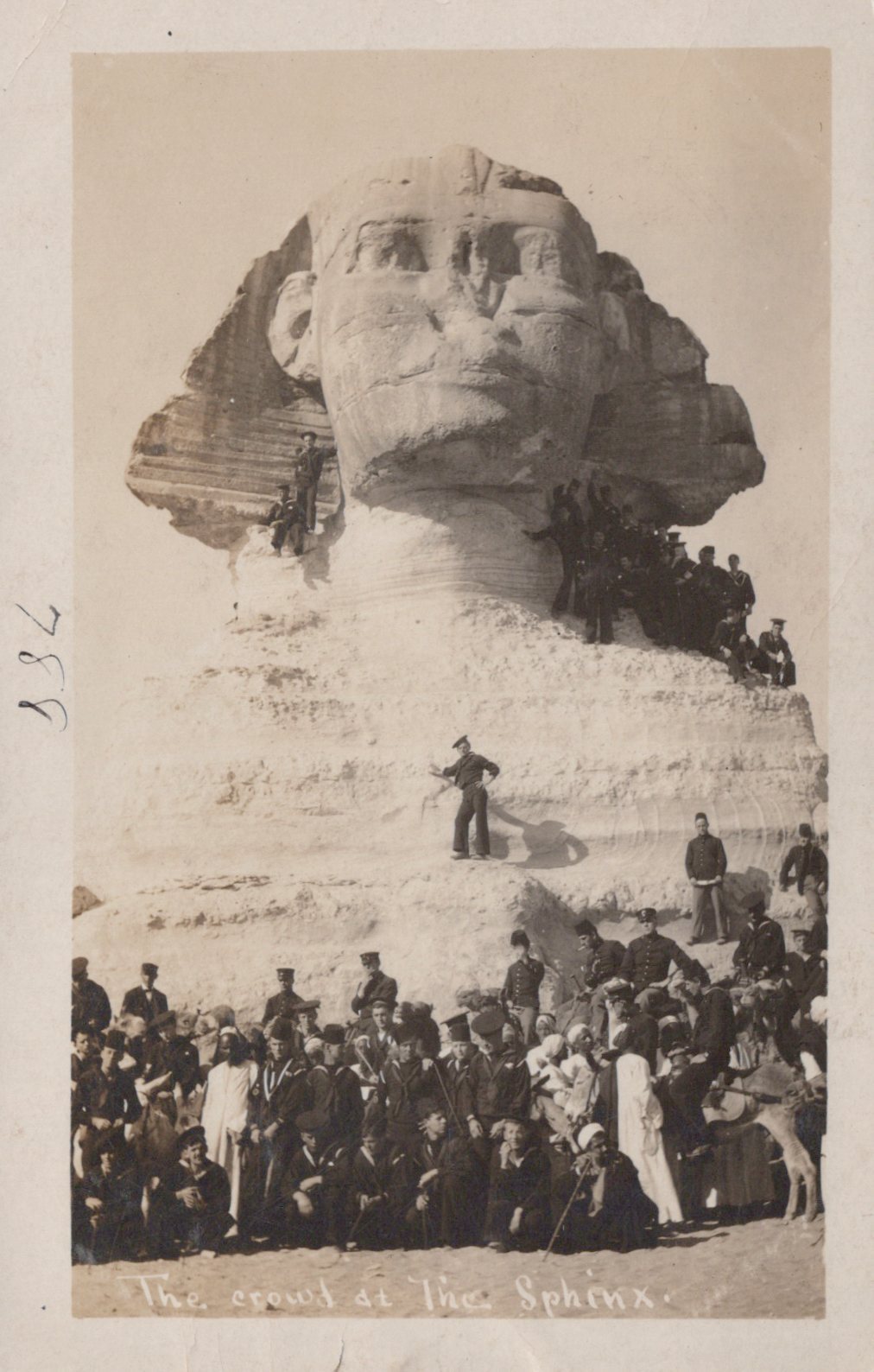 The adventure created life-long memories and friends with people from different parts of our country.  It was a unique time in our naval history where young sailors of no background in going to sea, joined the Navy, to see the world.
The Crowd at the Sphinx
Groups of sailors together on ships, on streets, and at sites were treasured memories that were framed, and hung, in the homes of sailors and their families to remember the shipmates they sailed with on a lifetimes adventure.
This real photo postcard is one of more than 1,000 issued during the cruise by Brown & Shaffer, two musicians on the USS Georgia who photographed the entire cruise.
My collection of their work can be found in the pages devoted to the photographers of the cruise.