related sections
Interesting facts
ben & Nellie stay in touch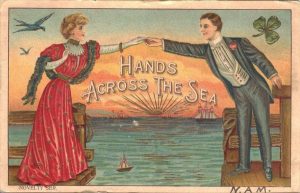 In 1908 postcards were the most popular way to communicate between friends and family.  Like email, people would send a penny card to a friend to let them know what they were doing on the weekend!  Between a sailor and his girlfriend it was a convenient way to pass caring sentiments.
For Anthony Bentifeld and Nellie McAleer postcards were the ribbon that held their relationship together over the long cruise.  As a young lady, Nellie had to deal with prying eyes to each card received.  This was solved by using codes within there cards!  First Morse code and later a self-styled numeric code that is expressed in phrases of three numbers.  As you view this collection "29-0-52" is an expression of love between the two of them.  On many, the only expression sent.
the cruisers that support the fleet
The "Pathfinder" and the Cruiser in the Pacific during the fleet's cruise.
In the Summer of 1907 the USS Washington and Tennessee were sent ahead of the fleet as pathfinders.  Later they would depart San Francisco with the West Virginia, California, and South Dakota to be in the South Pacific as the fleet neared Japan.
read more
photographers of the uss georgia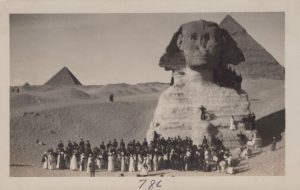 Two entrepreneurial musicians on the USS Georgia produced over 1000 different postcards of the cruise around the world.   Brown & Shaffer from before the start of the cruise till months after the cruise photographed all aspects of shipboard life, and the events and sites of each port.
They had a system of taking the photograph, numbering them, and then posting them in a place where they could receive orders from crew members.  They would then print them and pass along the photos for a small sum.  Finding out who they were was a mystery.  The roster of the crew of the Georgia has two Shaffers and four Browns.  Since it is clear that they had been in the Navy for at least 5 years before the cruise began, (because of the photographs from 1904 in China), it can be assumed they had reached the rank of petty officer.  Interestingly enough there was a Musician First Class L. L. Shaffer, and a Musician Second Class H. O. Brown.
new items posted on this website