This is the photo album of Ensign Harlow Trask Kays. It is an unusual story of photos that begins as he joins the USS Louisiana and ends in Alaska! His "round the world" cruise was cut short when he got married in the Philippines, during the cruise. This might has had something to do with the fact that his wife gave birth to their first baby while in the Philippines. (Mr. Kays!!!)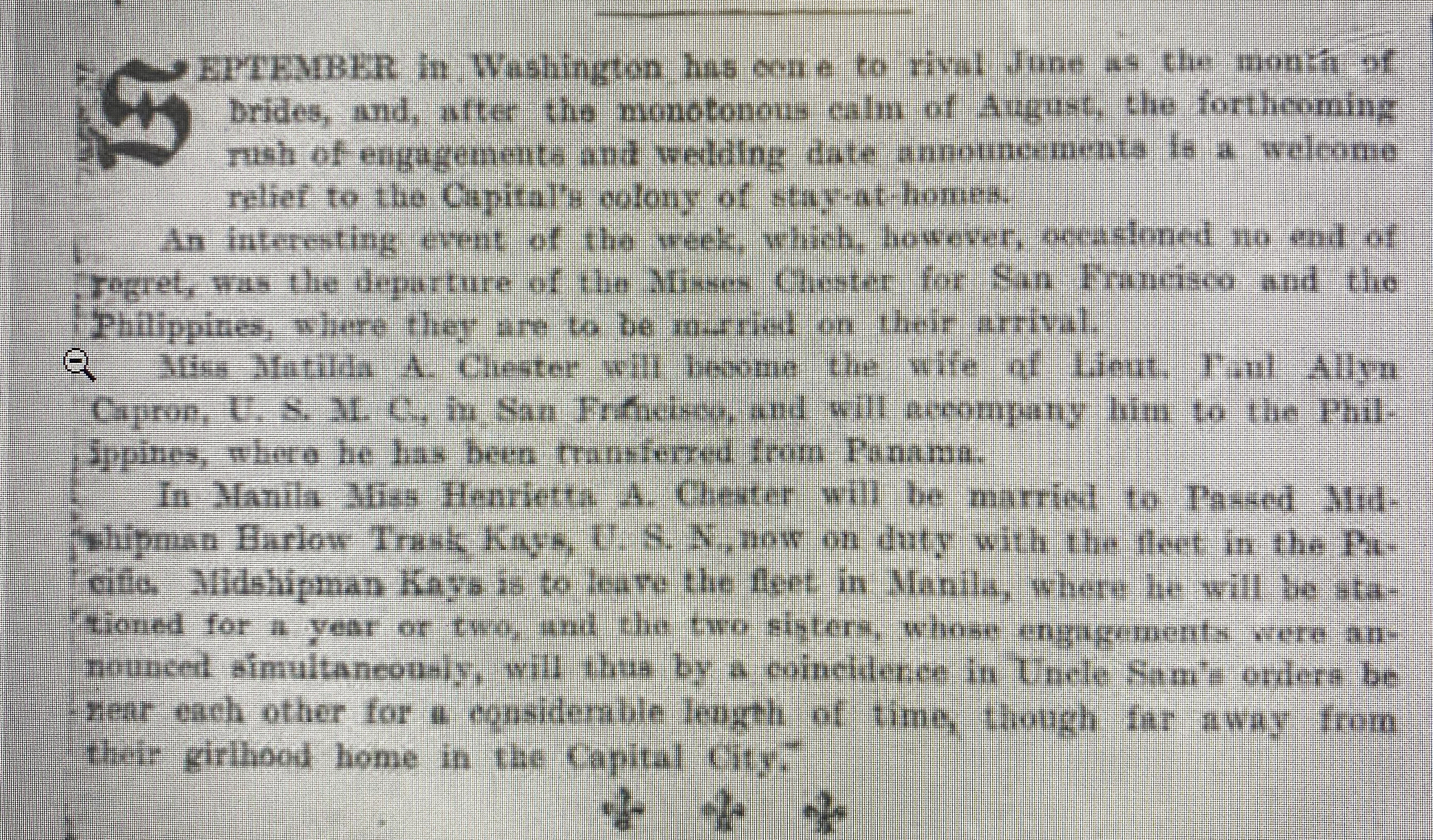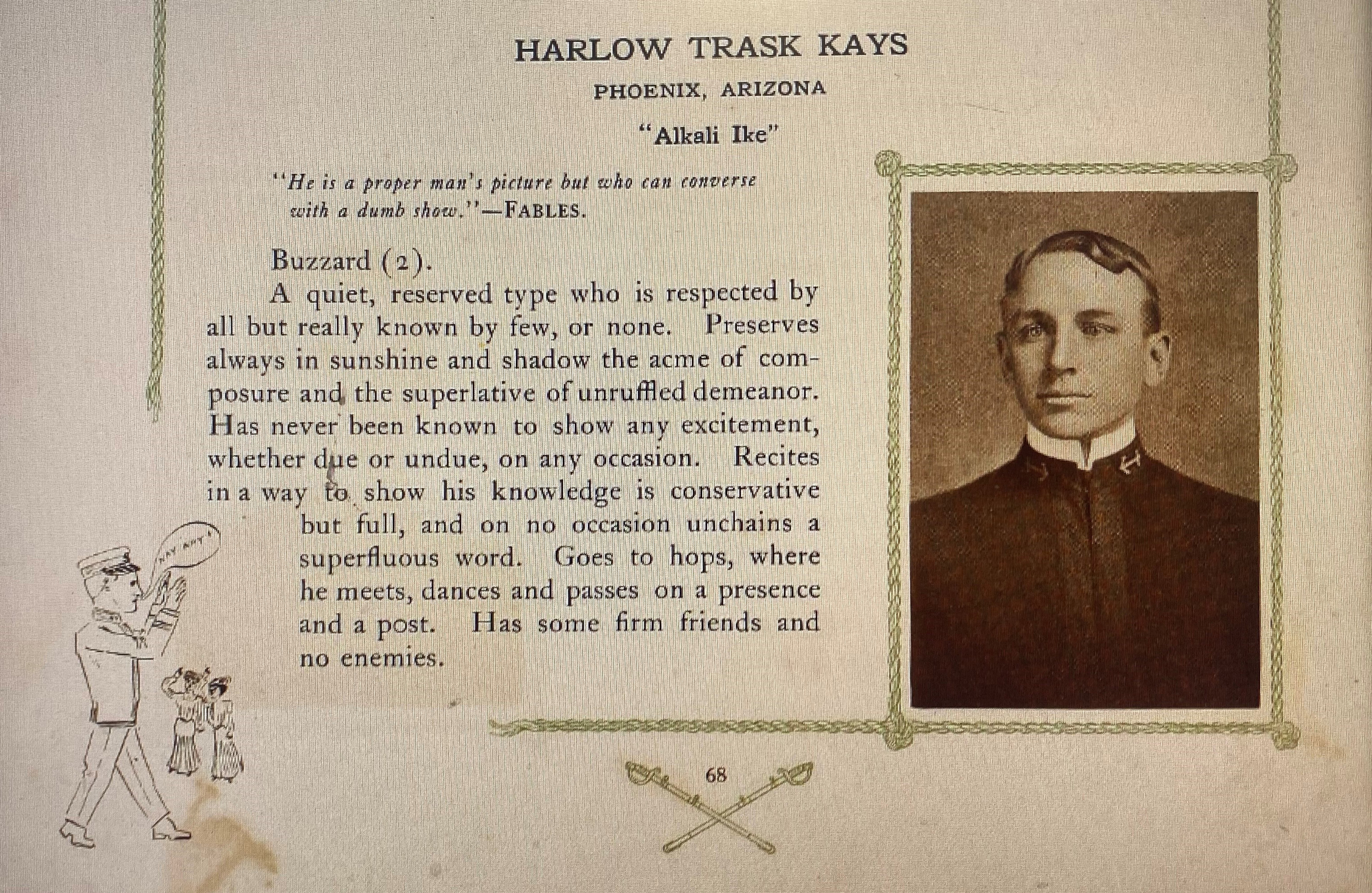 The story becomes even more interesting in that he is Marrying Miss Henrietta A. Chester who's sister, Matilda marries Lieutenant Paul Allyn Capron, USMC and is be transferred to Manila. As the article above states, "Midshipman Harlow Trask Kays, USN now on duty with the fleet in the Pacific is to leave the fleet in Manila where he will be stationed for a year or two, and the two sisters, whose engagements were announced simultaneously, will thus by "coincidence" in Uncle Sam's orders be near each other for a considerable length of time."
Midshipman Kays went on to have a long career in the Navy, retiring in October of 1943.
---
Among the many photographs in this album
This is the first photograph that I have found showing the portion of the fleet that anchored in downtown Honolulu during their visit. In this picture can be seen 5 of the battleships, 4 pierside and one anchored near the quay wall. In the foreground can be see the palace and other major buildings of the downtown area.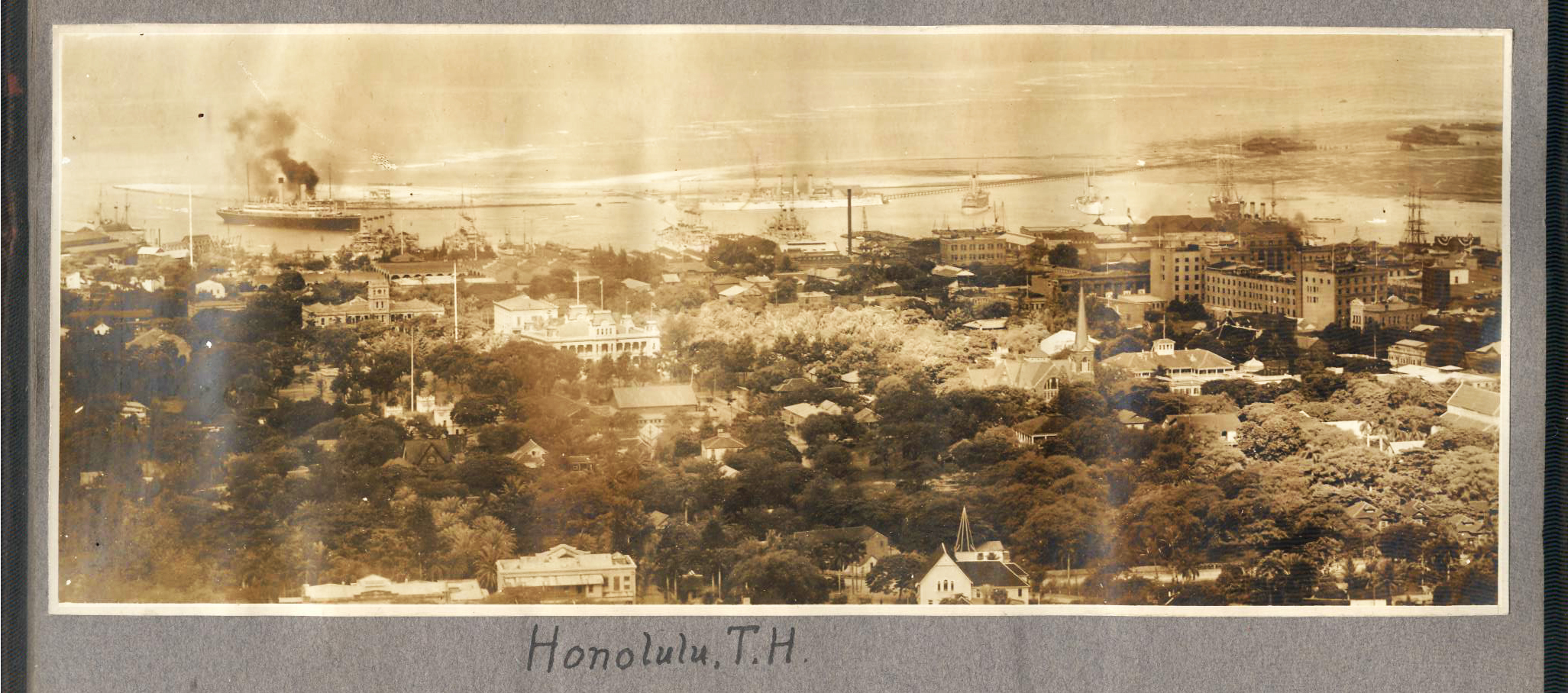 ---
photo album log by page
Studying this album is a work in process. I would like to build a full history, page-by-page for the events of his career covered in this book. This is going to take some help, particularly with the photographs from Alaska. Anyone who can help me fill in the gaps with information regarding these photos would be greatly appreciated. Please send me an email and reference the page number!
Page 2: USS Louisiana during gunnery exercises in Magdalena Bay, Mexico
Page 3: Photo 1, After 12" turret on USS Louisiana in gunnery exercises in Cape Code Bay - July 1907
Page 3: Photo 2, 7" gun crew in action USS Louisiana
Page 4: Photo 1, Record 7" gun crew Cape Code Bay, July 1907
Page 4: Photo 2, Midshipman Kays with Officer Moses and Meyers
Page 4: Photo 3, Junior Officer McKittrick showing a lady the
Page 4: Photo 4, Three Officers with three ladies on deck in New York's Hudson River
Page 5: Photo 1, Two ladies posing on deck with polished bronze cannon. Officer to the left holdings spoked wheel. New York, Hudson River 1907.
Page 5: Photo 2, Back home in Arizona with Giant Cactus
Page 6: Photo 1, Copper Mine in Arizona
Page 6: Photo 2, Kayes on leave in Arizona in the desert
Page 7: Photo 1, shipmate Midshipman Cummings
Page 7: Photo 2, Junior Officer, USS Louisiana
Page 8: Photo 1, 2, 3, On the Way to the Pacific. This is assumed to be at the start of the cruise heading south.
Page 9: Photo 1, Junior Officer's Mess, USS Louisiana. The "Mess" refers to the group of officers that dined together. Normally junior officer set at a separate table which allowed them to talk freely.
Page 9: Photo 2, "Frankenberger"
Page 10: Photo 1, Bald heads. Apparently all the junior officers decided to shave their heads!
Page 10: Photo 2, Louisiana underway looking astern
Page 10: Photo 3, "Dragons Mouths" refers to a channel of the southeaster Caribbean Sea between Point Penas and the northwestern portion of the island of Trinidad. It separates Trinidad from mainland South America.
Page 11: Photo 1, Officer's crew. Trinidad, Christmas 1907. This is a photo of the Officers Crew Team. Crew teams were highly competitive onboard ships of this era and the officer's had a team to compete.
Page 11: Photo 2, A cart with a group of Hindus photographed while in Trinidad.
Page 12: Photo 1, USS Mayflower in Hampton Roads, December 16th, 1907 on the day of departure.
Page 12: Photo 2, Group photograph of the Junior Officers, USS Louisiana.
Page 13: Photo 1, 2, 3, Crossing the Line ceremonies on the USS Louisiana
Page 14: Photo 1, Crossing the line ceremonies
Page 14: Photo 2, Rio de Janeiro from the top at Corcovado. Corcovado Hill lies just west of the city center. The term means "hunchback" in Portuguese and is a 2,329 foot granit peak in the Tijuca Forest National Park. It is where the famous status of Christ is located and can be reached by a narrow road or the Corcovado Rack Railway which opened in 1884.
Page 15: Photo 1, Stern view from USS Louisiana with battleship and Sugar Loaf Mountain in Rio de Janeiro.
Page 15: Photo 2, Battleships maneuvering at sea.
Page 16: Photo 1, Battleships in column formation.
Page 16: Photo 2, Small arms practice.
Page 16: Phot0 3, A photo of the USS Connecticut taken from a small boat. Alongside the Connecticut can be seen another small boat arriving for a reception during the port visit in Punta Arenas, Chile.
Page 17: Photo 1, Cape Forward. It is the southern most point of mainland in South America. It is located in the Magellan Straits region of Chile.
Page 17: Photo 2, The harbor at Punta Arenas.
Page 18. Photo 1, 2, 3, Photos while transiting the Straits of Magellan.
Page 19. Photo 1, Magdalena, Bay Mexico.
Page 19: Photo 2, 3, Junior officers Milney, Cummings, McKittrick, Milner out on a hike at Magdalena Bay.
Page 20: Photos 1, 2, 3. Kays in hiking outfit in Magdalena Bay. Other officers pose on deck in Winter Uniforms.
Page 21: Photo 1, Unclear what is going on in this photo. It is ondeck and there are palms and flags from "dress ship" that can be seen as decoration. Officers are in winter uniforms.
Page 21 Photo 2, Kays on deck for portrait in winter uniform.
Page 21: Photo 3, two matadors posing. Possibly from the bullfight in Lima, Peru.
Page 22: Photo 1, Coming into San Francisco. Photo 2, Pay Clerk G. B. Kimberly on deck alongside a Marine.
Page 23: Photo 1, Coming into San Francisco, Pay Clerk G. B. Kimberly and Midshipman F. W. Milner.
Page 23: Photo 2, Coming into San Francisco, Midshipman F. A. L. Vossler.
Page 24: Photo 1, sailors swabbing deck.
Page 24: Photo 2, Junior Officers showing off their clean shaven heads.
Page 24: Photo 3, Mt. Tamalpais Hotel. I have not been able to identify this structure on Mt. Tamalpais?
Page 25: Photo 1, 2, Photos of the Mill Valley & Mt. Tamalpais Scenic Railway. Photo 2 shows the cars of the line off the rails. The line is 8.19 miles long with 22 trestles and 281 curves. Operation began in 1896 and ran to the Tavern of Tamalpais with a view of San Francisco Bay and the Pacific Ocean. In 1900 the building was enlarged to over 30 rooms. This might be the structure shown in Photo 3, P.24.
Page 25: Photo 3, Viewpoint on Mt. Tamalpais with Kays and guests.
Page 25: Photo 4, "Aboard the Yorktown" This is a group photo onboard the USS Yorktown showing Midshipman Kays, his Father, future wife, her sister, and her future Husband Lieutenant Paul Allyn Capron, USMC. The Yorktown, Patrol Gunboat - 1 (PG-1) was the first ship named after the Revolutionary War Battle at Yorktown. It was under the command or Robley D. Evans, (now in command of the 16 battleships), in 1891 when it responded to the Baltimore Crisis in Valparaiso, Chile. In May 1908 it hosted the Secretary of the Navy, Victor H. Metcalf, to review the Fleet on it's arrival at San Francisco.
Page 26: Photo 1, "Onboard the Yorktown" This photo is another group photo of Midshipman Kays, Lieutenant Capron, and the two sisters, Henrietta and Matilda, on the deck of the Yorktown. It is interesting they were on the Yorktown, they must have been invited. I would guess that these two sisters had connections in Washington D.C.. That would explain their ability to travel to the Philippines and getting orders for their husbands to be stationed together.
Page 26: Photo 2, This photo seems to include Mrs. Kays on the USS Yorktown.
Page 26: Photo 3, A photo out of order, Grandpa Kays with granddaughter in Arizona.
Page 27: Photo 1, "On the Yorktown" Another group shot. Not sure who the two gentlemen in civilian cloths are, possibility relatives or dignitaries.
Page 27: Photo 2, "Motoring in Frisco" This was a popular activity for all members of the fleet while ashore.
Page 27: Photo 3, Another photo out of order, On leave in Arizona with family. Daughter looks to be 2-3 years old. Baby photos.
Page 28: Photo 1, On the main deck of the USS West Virginia, group photograph.
Page 28: Photo 2, Midshipman Kays joins a group of visitors for a photo on the USS Louisiana.
Page 28: Photo 3, The Hearst Memorial Mining Building on the Campus of the University of California at Berkley. This building had recently been completed, 1907 and dedicated to George Hearst who made his fortune in mining. It was designed by the University Architect John Galen Howard.
Page 29: Photo 1, "The Pendleton Family and R. Marshall", Phot0 2, Mrs. T. B. Woodward & family. Photo 3, On Mt. Hollywood, "The Misses Smith."
Page 30: Photo 1, "At Ocean Park, California", Photo 2, On Mt Hollywood, California, Photo 3, The Club, Lahaina, Maui, Territory of Hawaii. (during the fleet visit to the Hawaiian Territory, the USS Louisiana was not known to visit Maui. I am not sure how this picture happened unless Midshipman Kays was on one of the ships of the 4th Division)
Page 31: Photo 1, "At Waikiki Beach Honolulu" Group photo including Midshipman Henderson, Kays, Milner, McKittrick. Photos 2 & 3, Diamond Head with surf boats.
Not Found
Apologies, but no results were found for the requested archive. Perhaps searching will help find a related post.