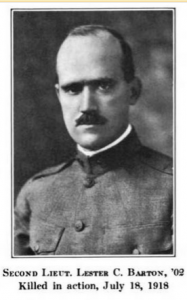 In 1908 Lester Clement Barton arrived in San Diego to follow the fleet up the coast photographing and publishing some of the most striking images. He recognized that the "line of ships" would be difficult to frame in a standard postcard format and selected to use a double-wide card format, 3-1/2" x 9-1/2." This choice produced a selection of images that, in many ways, best documents the view a person sanding on the shore would have experienced. His address was 1445 Monadnock Building, Chicago. He was 24. His other work can be seen at the Library of Congress online Catalog, Prints and Photographs Division: https://www.loc.gov/item/2013646893/
He was born on July 27, 1884 in Maywood, Illinois and was killed in action in Belleau Woods near Chateau Thierry by the direct hit of an enemy shell. He was a Yale graduate and had attend University of Chicago Law School, Class of 1902.
Not Found
Apologies, but no results were found for the requested archive. Perhaps searching will help find a related post.