On July 7, 1908 the fleet departed San Francisco to continue it's historic journey around the world. From the Log of Midshipmen Emanuel Lofquist, onboard the USS Connecticut, "Cloudy to Fair. Regular morning quarters. Secretary of Interior Garfield pad an official visit to the Commander-in-Chief. At two o'clock p.m. the Fleet (with the exception of Nebraska), got underway for Honolulu, Hawaii in the following order, Connecticut, Kansas, Minnesota, Vermont, Georgia, New Jersey, Rhode Island, Louisiana, Virginia, Ohio, Missouri, Wisconsin, Illinois, Kearsarge, and Kentucky. Slight fog outside of Golden Gate. Stood 6-8 p.m. watch on after bridge."
The Pacific and South China Sea
One of the prize pieces of my collection. This is the White House copy of the original telegram sent by President Roosevelt to send the fleet around the world. It represents his usual prose and ability with conveying a thought, "You have in a peculiar sense the honor of the United States in your keeping, and therefore no body of men in the world enjoy at this moment a greater privilege or carry a heavier responsibility."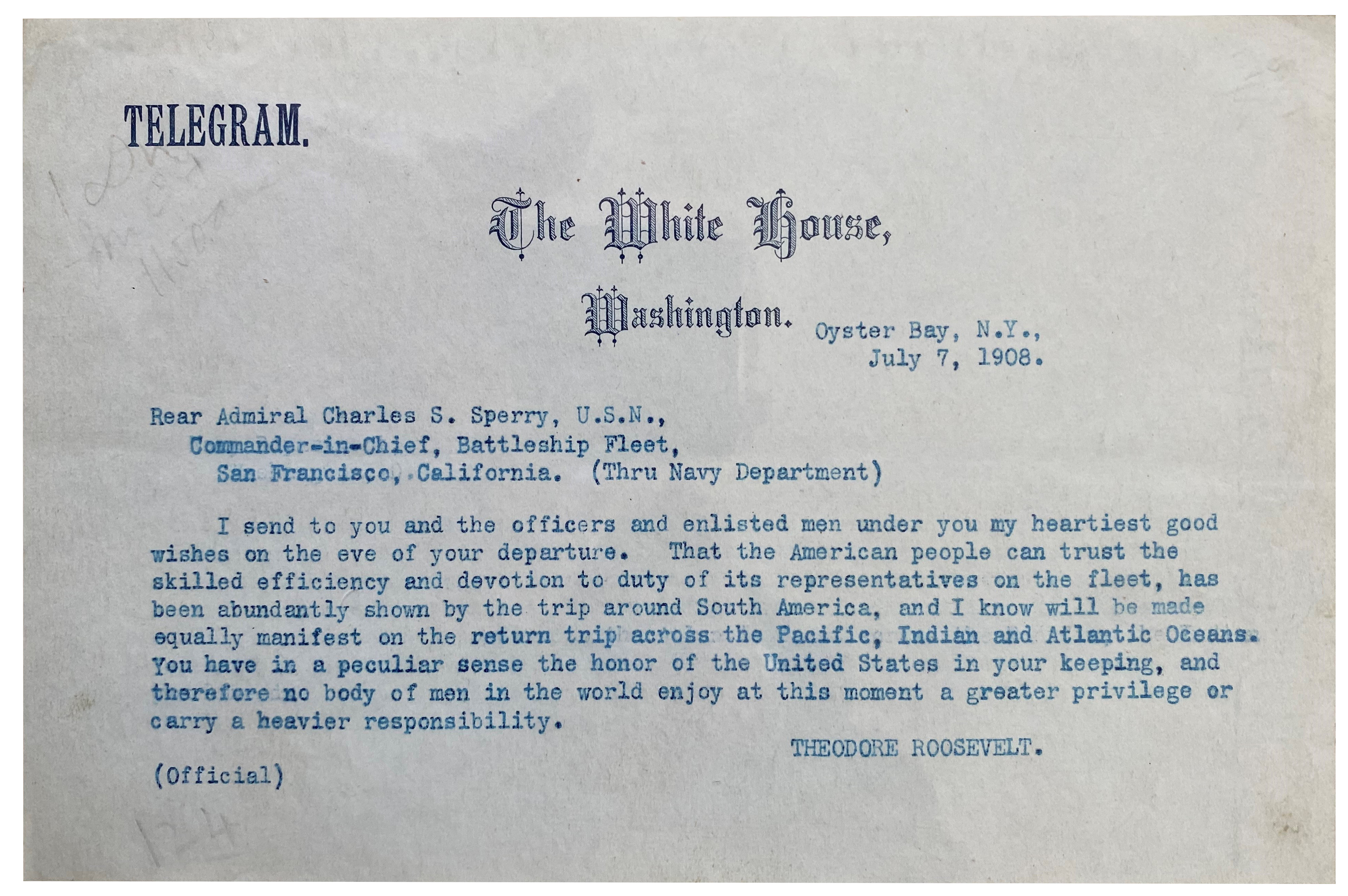 From the log of Midshipmen Lofquist, "The Commander-in-Chief, and officers and men highly appreciate the President's good wishes and all fully recognize the honor, privilege, and responsibility of their charge. Sperry"
---
The above images are from the photo album of Machinist Mate Second Class E. M. Dahl, USS Kearsarge. MM2 Dahl kept a complete photo album of the entire cruise possibly from the ship's photographer. All of his views are like no other. I am still working to get this album incorporated into the "Letters Home" portion of the website.
---
Rear admiral sperry departing
This is an unusual photograph showing Rear Admiral departing from Kentucky or Kearsarge with a line of other officers waiting to be announced before departing. The interesting thing about the photograph is that there are 8 sideboys at the gangway and as a Rear Admiral he would have been entitled to 6. The photo also shows two captains in the middle of the sideboys as well as some confusion with the whole thing. Admiral Sperry is seen uncovered and well as the captain. My guess, as a senior officer or politician would have departed first, the sideboys were still standing by as Sperry and the other officers departed. This photo was taken sometime after becoming Commander-in-Chief of the Fleet and before departure around the world. The ship is pierside, so possibly since everyone is in dress uniforms, and wives were present, it might have been some sort of ceremony.
Not Found
Apologies, but no results were found for the requested archive. Perhaps searching will help find a related post.