The American Fleet had seen what the Japanese Fleet had done at the Straits of Tsushima to the Russian Navy.  In May 1905 the Japanese Fleet under Admiral Togo destroyed two-thirds of the Russian fleet in a decisive battle lasting less than 24-hours.  They had shown there officers to be good tacticians and their crews to be well trained in both target and surviving after being hit.  It had be a defining moment in modern naval battles and the most important battle since the battle of Trafalgar.  If the fleet was going to meet the Japanese Navy at sea in a conflict, it needed gunnery practice and practice to maneuver ships in battle.
Magdalena Bay was an ideal place.  Fifteen miles long and ten miles wide, it provided a secluded bay for the American Fleet to conduct drills in maneuvering and target practice.  In many respects it was one of the most important stops of the trip around the horn.  Every crewmember understood the possibility of war with Japan and worked to gain their proficiency should their skills be tested.
we are now in magdalena bay
This is a real photo postcard showing the Battleship Kansas coming alongside another ship in Magdalena Bay. The ship coming alongside has laundry hanging to dry and there are a number of sailor on deck on both ships, maybe just curious or to talk. Does not appear to be any work going on. The care is mailed to San Francisco and canceled December 3, 1908.
A group of Brown & Schaffer photographs of the facilities at Magdalena Bay.  This was how things looked in 1908.  Sailors went ashore to have sports competition, swim, build fires on the beach, go hunting, or just take a hike.  Most of the time they were on the ships training.  The shore establishment assisted with building targets.
This is what happens when you take the same black and white photographs and try to make them interesting.  These cards were created several years before the fleet arrived for target practice by a Marine Sargant Van Dyke, USS Maryland.  Each card shows an element of the desolate life ashore including the cemetery, the pier, houses, and the sky.
The card at right was mailed later in the year by a crewmember of the Washington or Tennessee, the cruisers that sailed to the South Pacific to shadow the battleships incase of an attack by Japan.
The card shows a baseball game on the beach with crews from both teams lining the sidelines.  November 4, 1908
April 2, 1908
Dear Mr. Hall,
I  was very much pleased to receive your very welcome letter this noon and sit myself right down to write you a few lines in answer.  Really Charles, I have been so busy and engaged in target practice here in Magdalena Bay, Mexico that I hardly had time to write a letter home.  I have intended to write you a letter ever since my Ma wrote and told me how interested you were in me and my voyage around the world.  I am thinking that I shall see a great deal of the world before I ever hit North Attleboro again of which I am anxiously looking forward to.
The only thing that's unpleasant and fills a young jackies mind once in a while is the time and distance from home which is sometimes three thousand miles and sometimes ten and twelve thousand.  I would not ask for a better healthier or happier life than seeing the world on one of Uncle Sam's First Class Battle Ships and being one of the boys.  It is not necessary to write you of the great reception we will meet with on reaching San Francisco for the papers have no doubt been full of the great things they are going to do for us on arriving in Frisco. 
The Battle Ship Fleet is divided into two divisions eight ships in a division.  The New Jersey is in the second squadron of the first division.  We are going to stop at five cities in California via, San Pedro, Cal, San Diego, Cal, Santa Barbara, Cal, Los Angeles, Cal.  Cal and last of all we hit the Golden Gate San Francisco.  I wish I could have heard or known soon enough of your address to have sent you some pretty postals from Callao and Lima, Peru.  For I had a stack of them.  I am in a bay now where there are so few houses and people that you cannot get a post card but wait till I reach Frisco.
My trip around South America and around the Horn was grand.  We had some of the most beautiful weather I have ever experienced.  I wish I had room in this letter to write you a few of my experiences in Rio De Janeiro, Brazil and what a most beautiful place it is but space and time will not permit this time.  Rio is the most beautiful tropical city in the world it is simply a dream.  We hit the most southerly city in the world coming through the Straits of Magellan, Punta Arenas about a third of the distance through from the Atlantic where we made a stop of five days.  It certainly seemed like the most southern extremity of the earth for the strong south winds blew so hard that it was hard to stand out on deck without being blown to pieces.  One night the sun did not set while in the Straits until five minutes after eight and the west was bright crimson until nine o'clock.  The mountain scenery in the Straits is something grand, beautiful beyond description. 
The next port we steamed for was Callao Peru, which is about the same as Rio De Janeiro, Brazil but not near as beautiful.  Callao is a delightful place to visit.  I took the electric cars out into Lima, Peru a distance of twenty miles and it was OK I tell you.  There has been some very destructive earth quakes here and the people here are not very certain as to when the next one will occur.  When I come home next year I will tell you of my experiences which will interest you more than as if I wrote them to you.  I am feeling fin.  Happy as a clam and brown as a ham.  Must close now, please excuse haste as I wrote this letter in an awful hurry.  I hope you are still passing the house as you used to when I used to wave from the gate post at you.  I hope you are well and happy. 
Think of me and write soon to your True Friend, 
Leslie S. Coombs, With Best Wishes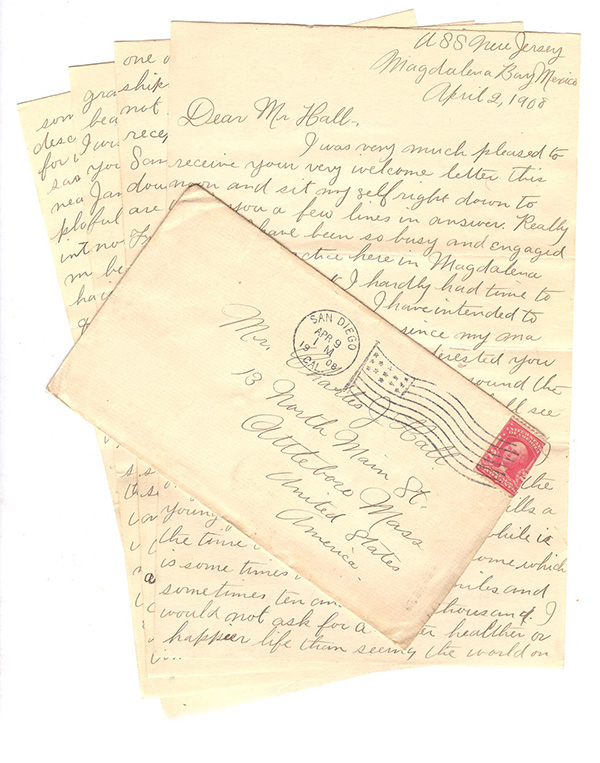 Not Found
Apologies, but no results were found for the requested archive. Perhaps searching will help find a related post.