The stop at Punta Arenas, Chile was necessary. The fleet needed to coal the ships, and they waited a pilot to navigate the Strait of Magellan, who never showed up. After a two day delay, the fleet proceeded. In 1908, Punta Arenas was considered "the end or the earth" and short of getting coal there would be no reason for the stop. As the southern most city in the world, located in the Straits of Magellan, the climate and terrain do not make for hospitable living conditions.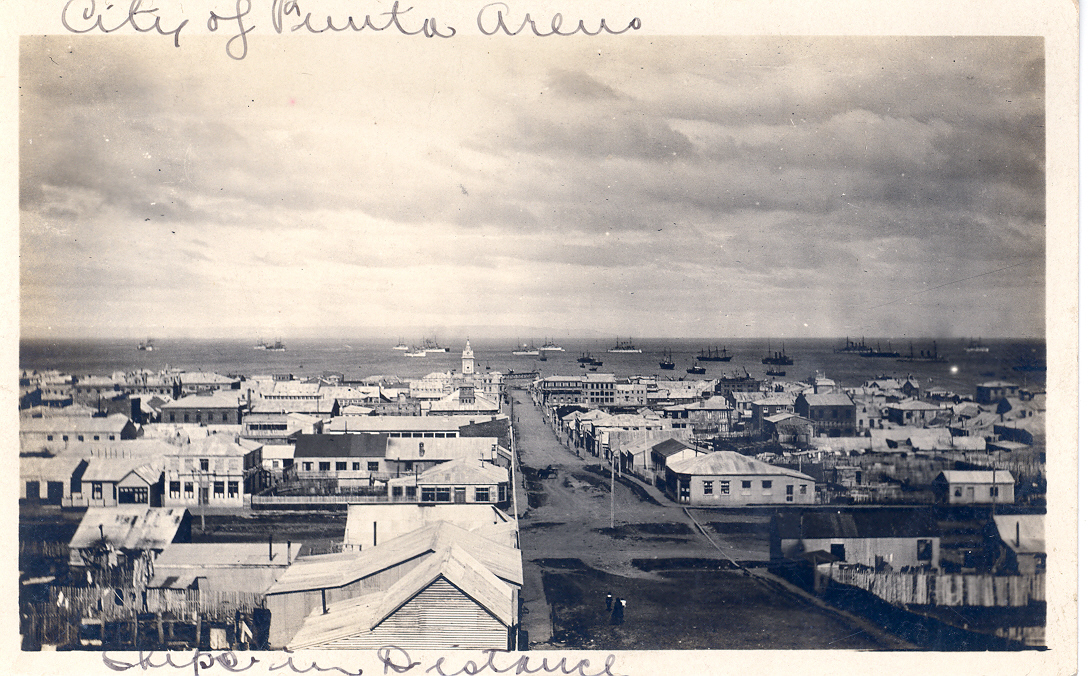 View of the fleet in Punta Arenas are limited. These three panoramas we all photographed and published by Adofe Kwasny, Punta Arenas-Magallanes-Chile.
This card is cancelled in Chile on February 3rd to Miss Kathleen Cummings.  "Punta Arenas Chile, February 1st, The houses are of galvanized sheet iron, roofs, sides and all.  G. C. L."
This card is from Clyde, onboard the USS Connecticut, writing, "2/2/08.  Arrived Punta Arenas yesterday.  All ships in fine order.  Weather rather cool.  Am going ashore tomorrow.  Am well and felling fine.  Will write tonight."
Many cards were written without much sentiment.  It was a postcard and anyone who handled it could read it.  Writing home to "Turkey City" probably allowed have the town to read the card before it arrived at its destination.
This is a group of real photo postcards of the fleet passage through the Straits of Magellan and arrival in Punta Arenas.  The cards are all an odd size to conform to the size of the photo negative.
---
I just love a card like this! Great subject matter, clearly dated, the name of the ship, and a nice text! "The is a picture of the missionaries who work among the Indians. We leave tonight for Callao, Peru passing through the Straits of Magellan in haste! Goodbye - with Love Your Cousin David" "Punta Arenas, Chile, Feb - 9 - 1908, USS Rhode Island" The card was mailed when the ship arrived San Diego.
---
OK, another GREAT card, this one took a little research. A card from Wallace D. Chase, USS Rhode Island to his wife. "Punta Arenas, Feb. 9, 1908. This is a scene taken during the initiations the day we crossed the line. One of the barber's chairs is to be seen with a man in it who after be has had his shave will be given a back somersault into the big tank below. W." The reference used to determine which ship "W" was on was published by the Government Printing office in 1908, "Men on Board Ships of the Atlantic Fleet Bound for the Pacific December 16, 1907 with Home address in the United States."
Not Found
Apologies, but no results were found for the requested archive. Perhaps searching will help find a related post.