My collection of items from Milton Willard were found on Ebay, subject to individually being listed and purchased.  Most of what I got from the collection was letter vs. postcards.  Most of the postcards were common and not postmarked.  The items I did bid on were the unique cards and the letters.  If it had been possible, I would have purchased the entire collection.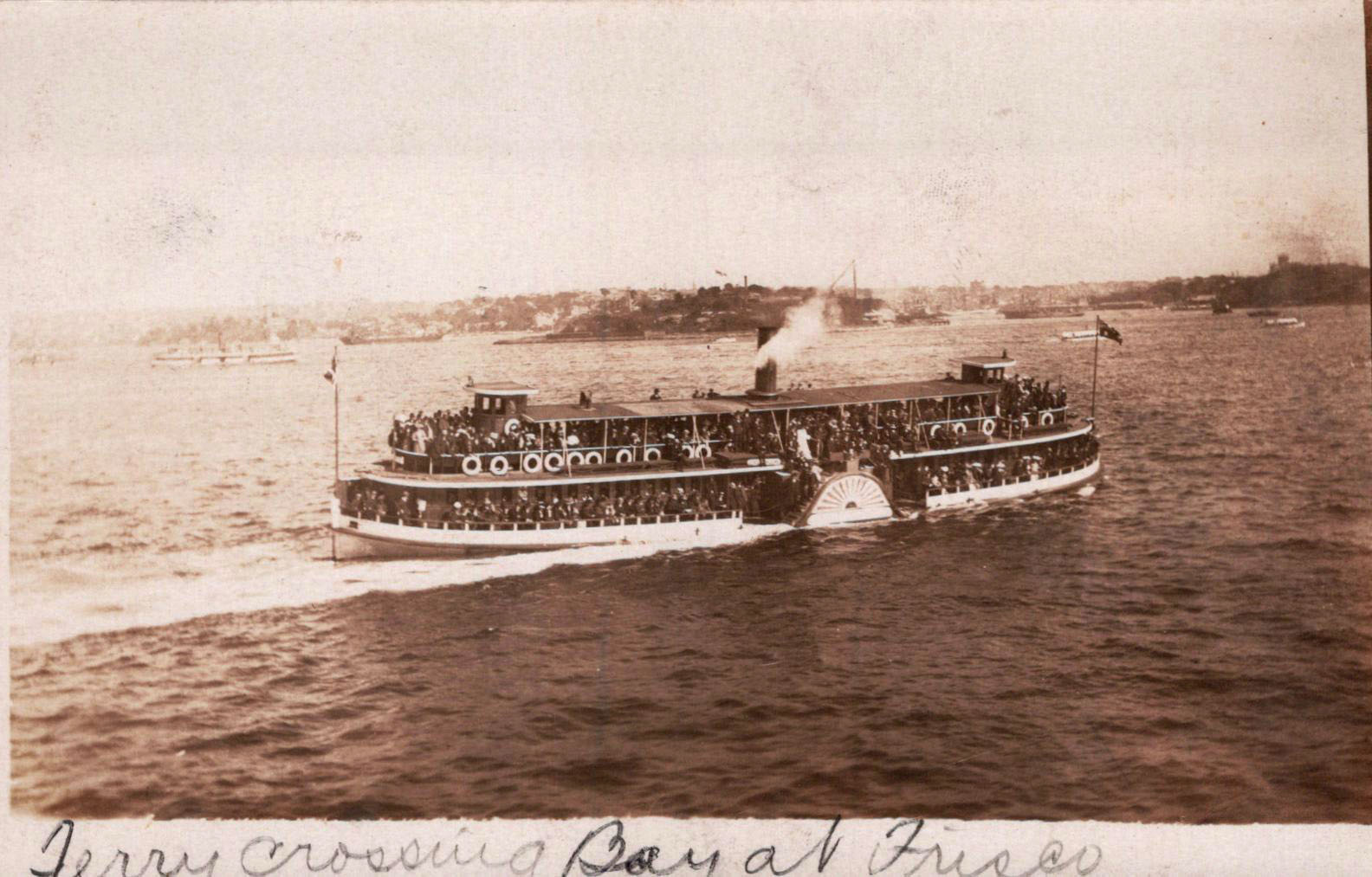 The above real photo postcard shows one of the San Francisco ferries on the bay before the Golden Gate Bridge.  This photograph was probably taken from one of the ships and shows a crowded deck of people wishing to see the battleships of the fleet.
seattle, washington - may 25, 1908
Dear Folks:  Today I received another letter from you before I had had time to answer your last one.  The fact is I have been kept so busy having a good time and work that I never felt like writing.  Our first stop after leaving Frisco was Bellingham.  It has a population of about 35,000 people and they showed us an exceptionally good time.  We enjoyed our two days stay there besides the ships were crowded with visitors.  Two sailors that were in a street car accident got killed on our last day in Bellingham and it sort of cast a gloom over the fleet.  Saturday am we took up anchor and arrived at Seattle about 2 pm.  The harbor was just filled with boats.  Dropped anchor at 2:30 pm sharp.  Then came cleaning ship for Suw. Suw. (?)  I was ashore and went up to storm's residence and had a fine time.  Met one or two girl friends of Lucy's.  It rained all day so we did not leave the house.  Very few people came out to  the ships on account of the rain.  Monday morning it rained a little while but not long.  We had quite a number of people on board today.  Lucy brought three of her friends with her and we went all over the ship.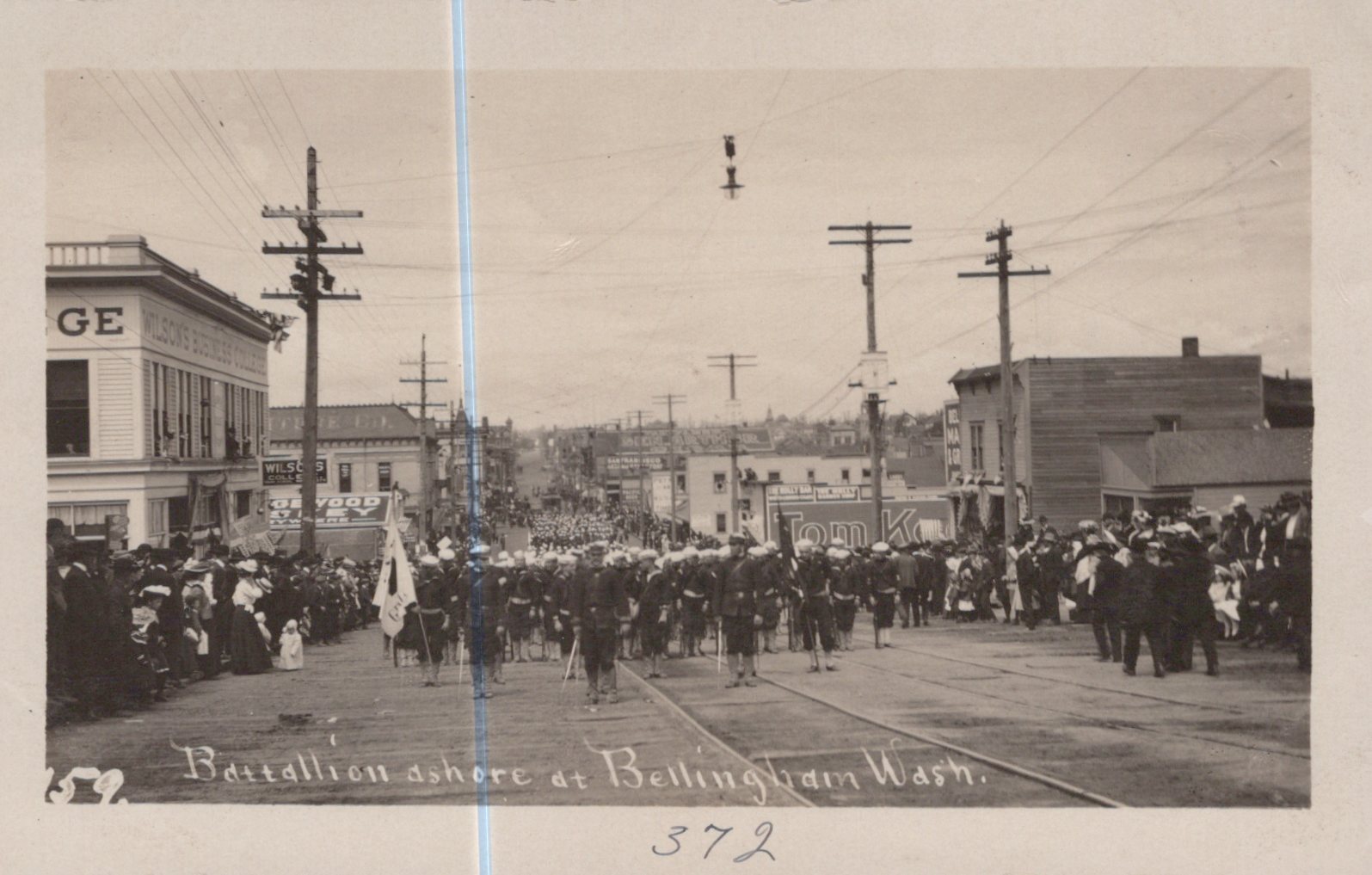 Tomorrow I will have to parade from 10 to 12 and then in the afternoon will go ashore again.  We leave here Wednesday am for Tacoma but will not stay there long as we have to be back to Seattle or Bremerton to go into dry dock for a week or 10 days.  Well I am so sleepy will quit and write some more Tuesday.  Today is May 31, 1908 and am going to try and finish this letter tonight.  I have been so buy every evening that I barely got a chance to write.  We was at Tacoma about 4-days and had a fairly good time.  They had fire works every night for us and everything was free.  We paraded on Memorial Day but it only lasted about 1-hour and was mighty glad when it was over.  The climate up here is fine in fact it is better than Frisco.
We left Tacoma this afternoon about 1 pm for Bremerton and arrived at Bremerton about 4:30 pm  At Tacoma there was only 4 ships namely Georgia, Rhode Island, New Jersey, and Virginia.  Of course us being the flagship we had the most visitors of any ship.  I was glad when we left because a person gets tired of meeting so many visitors.  I met a girl in Tacoma and I guess her parents were pretty well to do.  She wanted me to go ashore with her and I could of went I guess but I did not care to as I had been ashore once before.  We will go into dry dock in a few days  but do not believe wee will stay in long.  I hope we do though as I want to go to Seattle for a visit.  It is only about 8 miles from here.  I imagine by that letter from my Australian cousin that she is a jolly girl and she is certainly not a bit conceited to tell how she looks.  I hope I meet her and if I do of course I will skate but not dance.  I went to a dance here in Tacoma and about all I could do was two step.  It is no sport and if I had to walk as far as I danced I would raise an awful kick.  So she thinks she can cut a dash with me.  I am going to let her try it.  If she is just going to like me for the further is in it she better look elsewhere.  All the same through I guess she will be able to show me a good time.  Well I guess I will close now trusting everybody is well.  Your Son M. Willard - USS Georgia c/o P.M. San Francisco
san francisco, california - july 6, 1908
Dear Folks and All:
I will now try and write my last letter in San Francisco to you.  It is 2:15 am now and I am on watch.  One or two watch men went ashore today so I had to stand a watch.  There i snot much news here.  I am well and glad wee are going to leave Frisco but sorry to leave the Pacific Coast.  It has been very nice here in the last few days.  Saturday was very warm except in the evening when it got chilly.  These western girls differ a great deal from eastern girls as all it takes from some is a introduction and they are jolly.  They seem to have more respect for the sailors than the eastern girls.  We had quite a few visitors today but no one was over to see me.  Tomorrow or today rather I expect a girl friend from Frisco over to see me.  It is a good things to have friends come over to see you.  Yes I guess you are the only one who can write a letter.  I waited quite a while for an answer.  I did not know what was the matter and then I got a letter from Drake and he said he saw you and I wondered what you was doing in Union.  Then K sent me a paper of Grandma's death and that put me all straight again.  Yes I got the $2 all right but don't address my mail to Pacific Station anymore just USS Georgia c/o P.M. San Francisco.  There is no station in Frisco but there is one at Mare Island 42 miles away.  I used most of that two $ on stamps.  Yes there are hard times all over the U.S. but somebody is getting fat over it.  Even in Frisco the lack of money is so great that buildings are just half completed and then left that way.  I get my months pay anyways and I always have a place to eat and sleep.  Well Mother I guess I will close now wishing you all a good sleep.
I Am Your Son
Milton H. Willard
honolulu, t.h. - July 16, 1908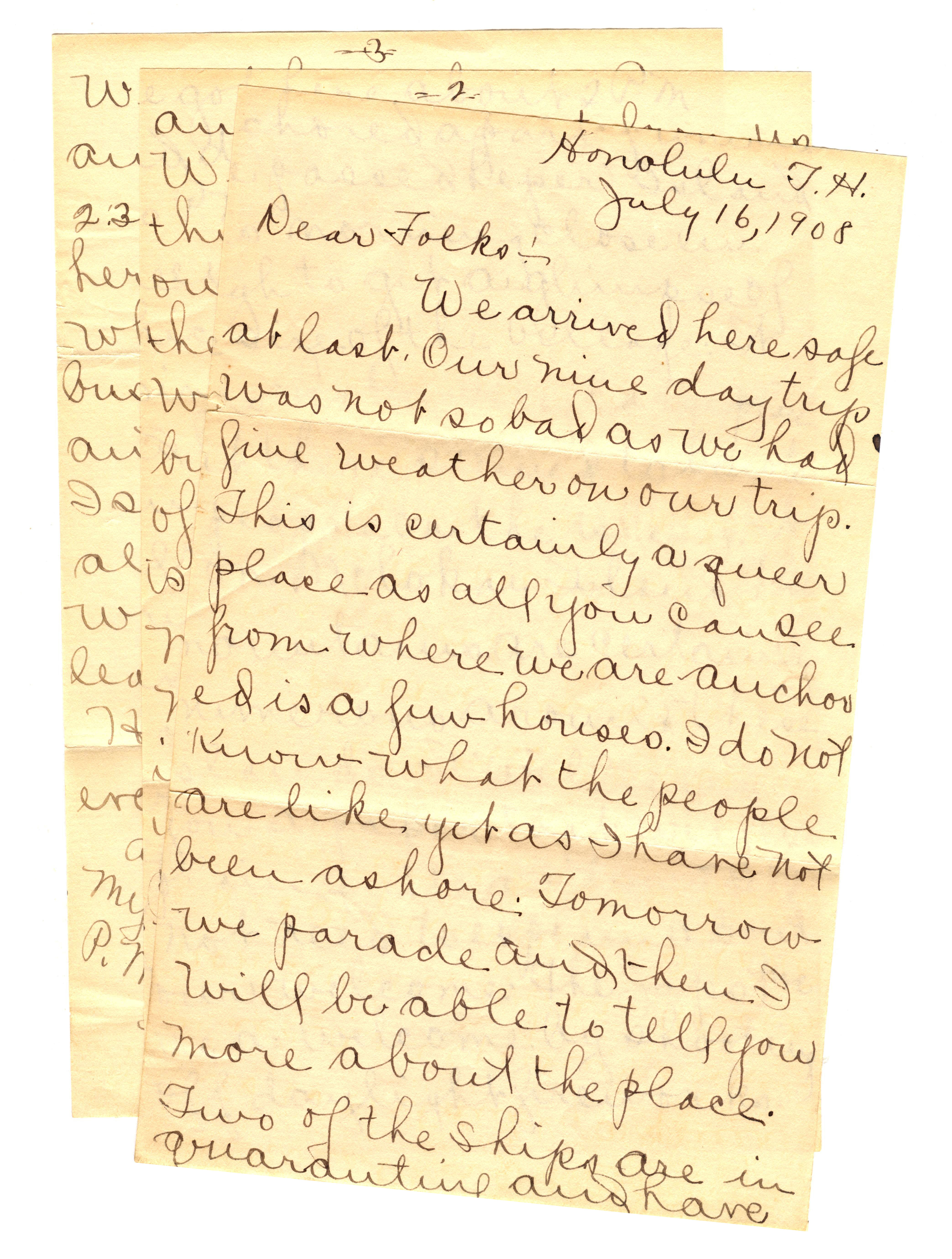 Dear Folks,
We arrived here same at last.  Our nine day trip was not so bad as we had fine weather on our trip.  This is certainly a queer place as all you can see from where we are anchored is a few houses.  I do not know what the people are like yet as i have not been ashore.  Tomorrow we parade and then I will be able to tell you more about the place.  Two of the ships are in quarantine and have anchored apart from us.  We passed Leper Island this morning close enough to get a glimpse of the size of the village.  It was not a very large place but there seemed to be lots of people on the island.  It is on Molokai Island.  The mountains are certainly numerous around these islands.  I will send you a paper that will explain quite a bit so I will not need to explain about our welcome.  The Japs give us a welcome by shooting off daylight fireworks.  We got here about 2 pm and dropped anchor at 2:30 pm.  It is awfully hot here except the evenings which is cool.  How is business?  I am feeling fine and have been all the time.  I suppose everything is all right at home.  Will write again before we leave.  Hoping you are well as ever, Your son &  brother,
M. H. Willard
After October 27, 1908 address my mail care of P.M.N.Y   N.Y.
The postcard above, and H. H. Stratton card issued at the end of the cruise, was mailed home by Milton and cancelled onboard the ship February 28, 1909, just after the return.  It shows the crew of the USS Georgia marching through the streets of Honolulu during there visit.  For Milton, he could probably point out where he was in this formation during the parade and certainly felt a part of history.
---
Auckland, NZ - August 9, 1908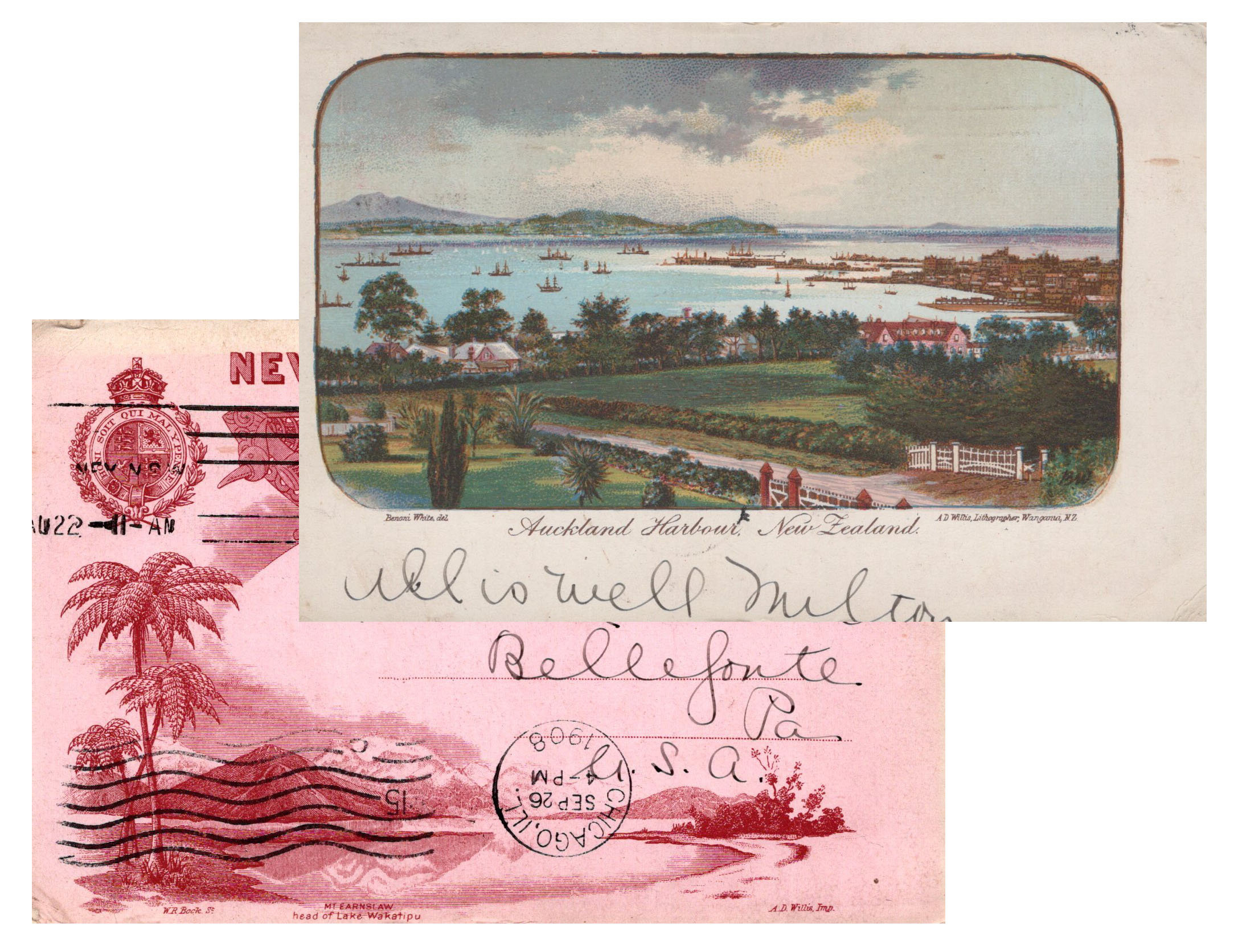 "Dear Folks:
We arrived here safe and sound at 9 am after having spent 16-days at sea. Our run from Honolulu to here was quite exciting. It was on Wednesday evening at 6 pm that we weighted anchor in Honolulu and stood out to sea. The Minnesota did not leave till the following Friday on account of waiting for the mail. It was bright and sun-shining and blistering hot all the way from Honolulu to within three or four days run from Auckland. I noticed the heat more on this trip than I did when at South American ports. We kept busy with fleet maneuvers and drill on this trip. On Tuesday, July 28, 1908 we crossed the equator between 11 and 12 o'clock. The fleet stopped dead still and the life boats were lowered from all ships. They went straight to the Minnesota (which had caught up and swung into position) and got mail. It is the first time we ever got mail at sea and besides it was in mid-ocean. We took on a few rookies which numbered about 100 in Frisco and of course they had to be initiated so a tank was put up and then the fun began. It certainly was what you might call a good initiation. Two fellows who hid from his Majesty Neptunus Rex were found later in the day. They of course took them forward on the forecastle and tied them to poles then poured vinegar pepper and salt on them and painted them up with a mixture of salt water soap lamp black coal dust, salt water vinegar, and pepper and then turned the salt water hose on them to wash them off. They owned up they had enough. We also passed Tutuila Island of the Samoan group on our way. On
Wednesday evening August 5, we turned in our hammocks intending to get up Thursday August 6, but when we work up we found out to our surprise that is was Friday August 7. Of course that was a case of losing a day. I am only sorry it was not a year we lost instead of a day. The sooner this trip is over the better I will feel. We struck some pretty rough weather on our last 4-days out. When I say rough, I mean that it is just rough enough so that a wooden ship would not last 24-hours in it. We just tossed and tumbled all day and night. We struck here in the coldest part of the year. They are having their winter now and for one am not sorry becaused it will take quite a while to take all the heat out of me. I think I would freeze if I ever struck real cold weather again. I am just at present feeling fine. Hope you are the same. I will write again before we leave here. Wishing you all good, I am Your Son, Milton W."
sidney, australia august 20, 1908
"Dear Folks and All: We are in sight of Sydney now and it is only 9 am. We will not not anchor before 11:30 am so I thought I would start a letter to you so as it would be all ready to mail when we arrived in Sydney. Of course this will just let you know about our trip from Auckland and that we arrived safe and sound although we went through some of the roughest seas since leaving Hampton Roads. I was ashore in Auckland for a day and it certainly is a pretty place. There were several British men-of-war laying in the harbor and together with us the harbor was full. I am sending you some pictures of Auckland and of some taken on the ship. We left Auckland Saturday August 15th at 8 am and put out to sea. Our 5-day run from Auckland to Sydney was certainly rougher than any wee have ever been through. The ship having rolled at times over 20-degrees. You can imagine yourself drinking coffee having cup in one hand holding to a tension (post) with the other. We could not eat on tables. It only lasted five days and we may see of of it. Guess I will close now and wait till I go ashore. Your Son, Milton Give Love to All"
melbourne - September 3, 1908
"Dear Folks & All: As I have been so busy visiting all my cousins I had almost forgotten to write to anybody but now that I have a few minutes to spare I am going to try and tell you all about them. We had a delightful time in Sydney and all you could spend your money for was souvenirs. We left Sydney August 28 and was at sea for 2-days which were very rough. At times you could not see the bow of our ship on account of pitching. I forget to say I got a letter from Joe Briggs while in Sydney also one from Annie Caudwell which I have not answered yet. As soon as I reached Melbourne I received letters from Joe Briggs, Kathleen Briggs, Evelyn Jones, Isabelle Briggs, Reia Briggs, Matilda Jones, Ellie Morris. There is an awful family of the Briggs and Tuesday I took 3 friends of mine up to the house. They certainly showed us a swell time. We got to the house at about 3:30 pm and we had no sooner got seated than we had to have tea. So we had tea nad cake and bread and butter. After we had talked with Mrs. Briggs & Reia (that is all who was to home then) awhile in com Kathleen and Miss Warden of course I kissed Kathleen right on the spot. But that was not all pretty soon came John and then Ted (he is a jolly fellow.) pretty soon Joe came marching in. I thought that was very near all until May came in. She is rather tall and the oldest of the girls I think. Last but not least came Daisy and Ella or Ethel, I forgot the first name. Then they brought in Mr. Briggs who they said was the boss of the house. Well we had supper and then they cleared the floor for dancing and Joe went out and got all the neighbors he could and altogether we had quite an audience. Joe and Reia can certainly make a a person talk and they played duets for us all evening. They tried to teach me the Australian Waltz but it was no use. A person gets dizzy going around in a circle an that is all it is but they go so fast. They start out and keep going in a circle for a while and then reverse and go the other way. Soon we had another feed and they could not do enough for us. Mrs. Briggs was on her feet very near all the time I did not have much a visit with Kathleen but like Daisy May to talk with. They were quite a bit older. Of course we had to write something in their autograph album. We had no U.S. mail since July 10th mail and I think I could go some if I had it. Today is Thursday and I am expecting them all over today so I can show them around the ship. Tuesday night we were all having such a good time that we did not notice the time as it passed so rapidly. At about 2:30 am we turned in for the few hours sleep that we due us. We got up at 5:30 am had breakfast and caught the 10 to 6 am train to return to the ship. We got back safe and sound I am going again today I hope. We leave here Saturday for Albany. Give my love to all. Trusting you are well. I am Your Loving Son and Bud. M. H. Willard, USS Georgia "Best Ship in the Navy."
Milton must have visited a stationary shop in Melbourne to find writing materials. This stationary with local sites as the letterhead, Pitt Street, Sydney, Hindley Street (from Black Bull Hotel), Adelaid, Collins Street, Melbourne, and High Street, Freemantle, W.A.
---
cavite, p.i. - november 7, 1908
Dear Mother:
Here it is noon time on the "Georgia" and we are at anchor in Manila Bay.  It has been awfully hot while we have been here and today seems to be still more hot than before.  If you go outside without a jumper on you are sure to get baked.  I suppose by the time we are ready to leave we will be getting use to it.  The rumor is now that we leave here December 1 for Colombo.  We are on the range firing 1-pound shots everyday for drill but we will commence firing in our regular battle practice about November 14.  After leaving Japan instead of going to Manila we went into "Cubig" Bay a little ways from Manila Bay.  The town is called Olongopo and the Dewey drydock is situated there.  It is a mammoth structure and well worth seeing. We coaled and painted ship there and bore sighted all the guns before leaving for Manila.  The second squadron left us the second day out of Japan for Amoy, China and are expected to arrive here very soon.  There will be no liberty until the 25 of this month and that will only last for 5 days.  The Yankton is out having battle practice.  There is one thing about this place that beats Magdalena Bay and that is all our targets are put up for us and another thing the bay is calm and not a breeze is blowing or stirring.  I will be only too glad when it is all over with that is battle practice and when we start back for the states.  I hope Roger and Paul don't take their vacation until I do so as we can always be home together and if Vera is not home when I come there will be something doing.  Enclosed you wil find a money order for $10 which please add to my account and tell me just how much I have home.  Trusting I have enough to make a furlow on I am Your Son, Milton W.
THANKSGIVING
Dear Folks,
Just another letter to let you know I am alive and kicking.  When I say kicking I mean the real genuine article and I am ready to do anything.  This place is enough to disgust a saint with no shore leave of any description.  By the way you will find a postal money order for $30 in this letter please place it to my credit.  I guess I am doing pretty well for a beginner.  Sending $55 home within two months.  I never done it before.  I am going to try and send $30 home from now on every month.  I suppose my account at home is somewhere around the $200 mark is it not?  I have had no mail from you since September 30th letter and I think it is about time I was getting a letter.  Today is Thanksgiving and we are not working or don't expect to work.  We coal ship tomorrow.  Now is that not nice.  To have that word (coal ship) lay on your stomach over night.  We had a good dinner consisting of Roast Turkey, Cranberry Sauce, Mashed Potatoes, Gravy, Bread, Butter and coffee also fruit. Today I  put my souvenirs in a box about 8" deep, 2 feet long and 1 foot wide and had so many that I could not get them in.   When we get back unless we go south for target practice or not I will send them home in a box.  Write Soon, Milton W.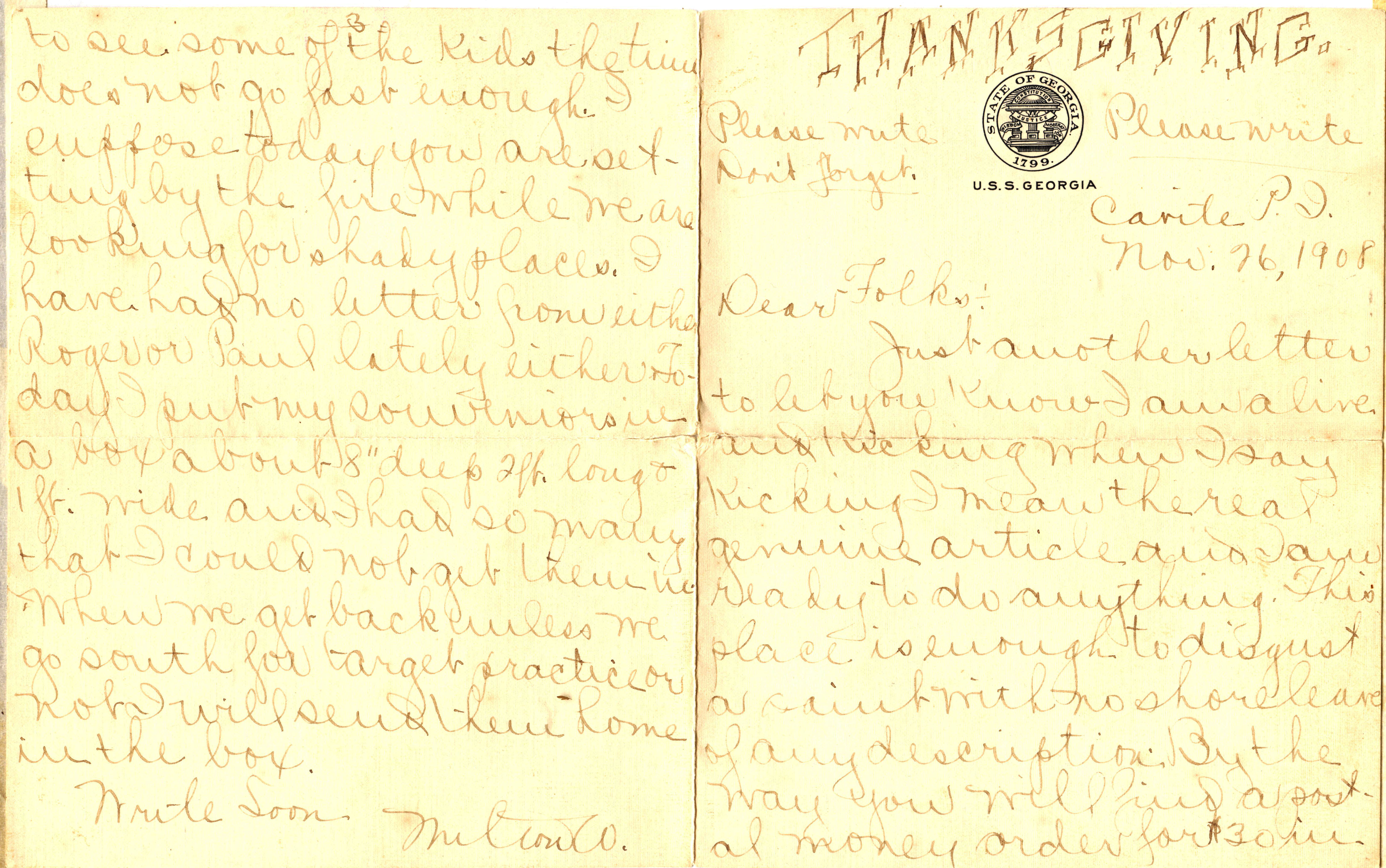 Yokohama, Japan - October 19, 1908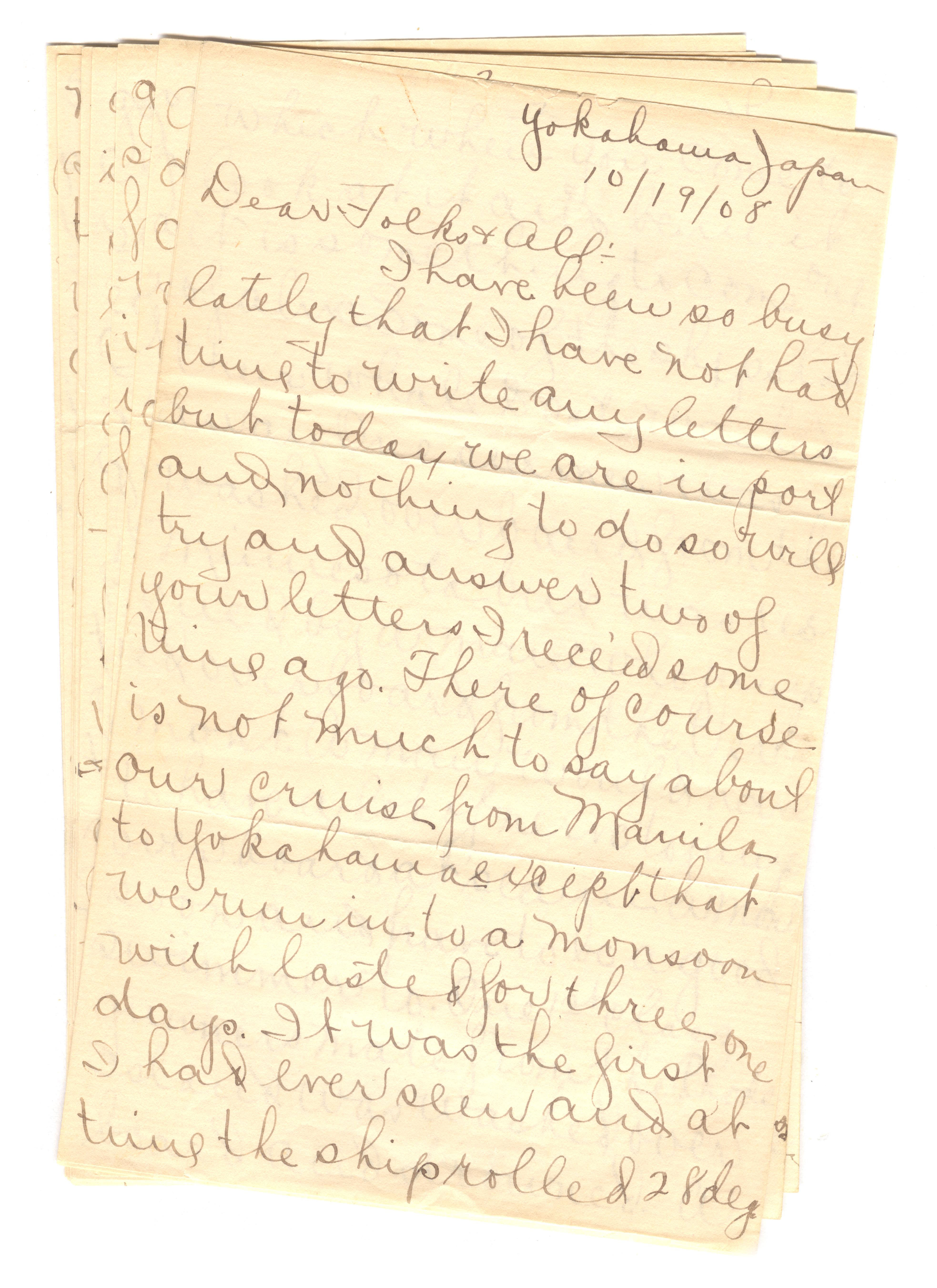 Dear Folks and All:
I have been so busy lately that I have not had time to write any letters but today wee are in port and nothing to do so will try and answer two of your letters I received some time ago.  There of course is not much to say about our cruise from Manila to Yokohama except that wee run into a monsoon witch lasted for three days.  It was the first I had ever seen and at times the ship rolled 28 degrees which when you come to look at it and be in it it is something to come out of alive.  Some of the ships had their whale boats washed away.  One seaman was washed over board from the Minnesota but was rescued by a man who jumped overboard from the Vermont.  A man would have to have a lot of nerve to jump overboard at sea in a monsoon and have to be a good swimmer to. On 1st Class gunners mate from the Rhode Island was washed overboard and drowned.  A man on the Missouri died from heart trouble and wee sent a man today to the hospital who was pretty badly injured during the storm.  At last after it was all over we began looking for the fleet and only found ten or eleven ships.  The Kentucky lost her top mast.  That is about all the news except that we got here Sunday am about 9 o'clock.  I will not be able to get ashore as I broke by liberty in Australia but I will no doubt go ashore in Manila.  I have spent about $6 for silks so far but can not send it with out paying duty on it so I am going to wait until I come home on my furlow and then bring all the stuff home I guess.  Have something for everyone.  I got a silk kimono all silk and very pretty for $1.50 and paid $2 for a swell pocket book and belt.  I am going to buy all the silk goods I can because it is a cheap as gingham.  I may get some good boxes of cigars in Manila for Dad if he still smokes.  Yes I have crossed the equator 4 times and the 180 meridian so far and expect to gain a day going back if we cross it which I think we will.  By the time a person is that far along and been through typhoons and monsoons he is apt to become a sailor soon.  So Papa has sold out has he.  Well of all the foolish things he ever done tht is the limit.  Why didn't he show those people where they belonged?  I had sooner set a place of business and shoot the first person who tries to put it out than gave up a good business.
After leaving Manila we stop at Colombo, Port Said, Suez and Gibraltar also Genoa then cross the Atlantic.  That will complete our trip around the world which I will be mighty glad when it is finished.  I will close now with best regards and love to all.  I remain Your son, Milton Willard
colombo, ceylon - december 12, 1908
Dear Folks,  No doubt you will be surprised at the heading so soon but you know as the Georgia is the fastest ship in the fleet we left the fleet way behind a few days ago and headed straight for Colombo.  One evening about 8:30 pm December 9, 1908 we telegraphed to the fleet surgeon we had a case of small pox on board and shortly after ward got word to make all speed possible to Colombo of course that meant more work for the firemen ass they ahd to use forced draft in order to make 15 knots.  We hot here this morning about 7:30 and let out one anchor.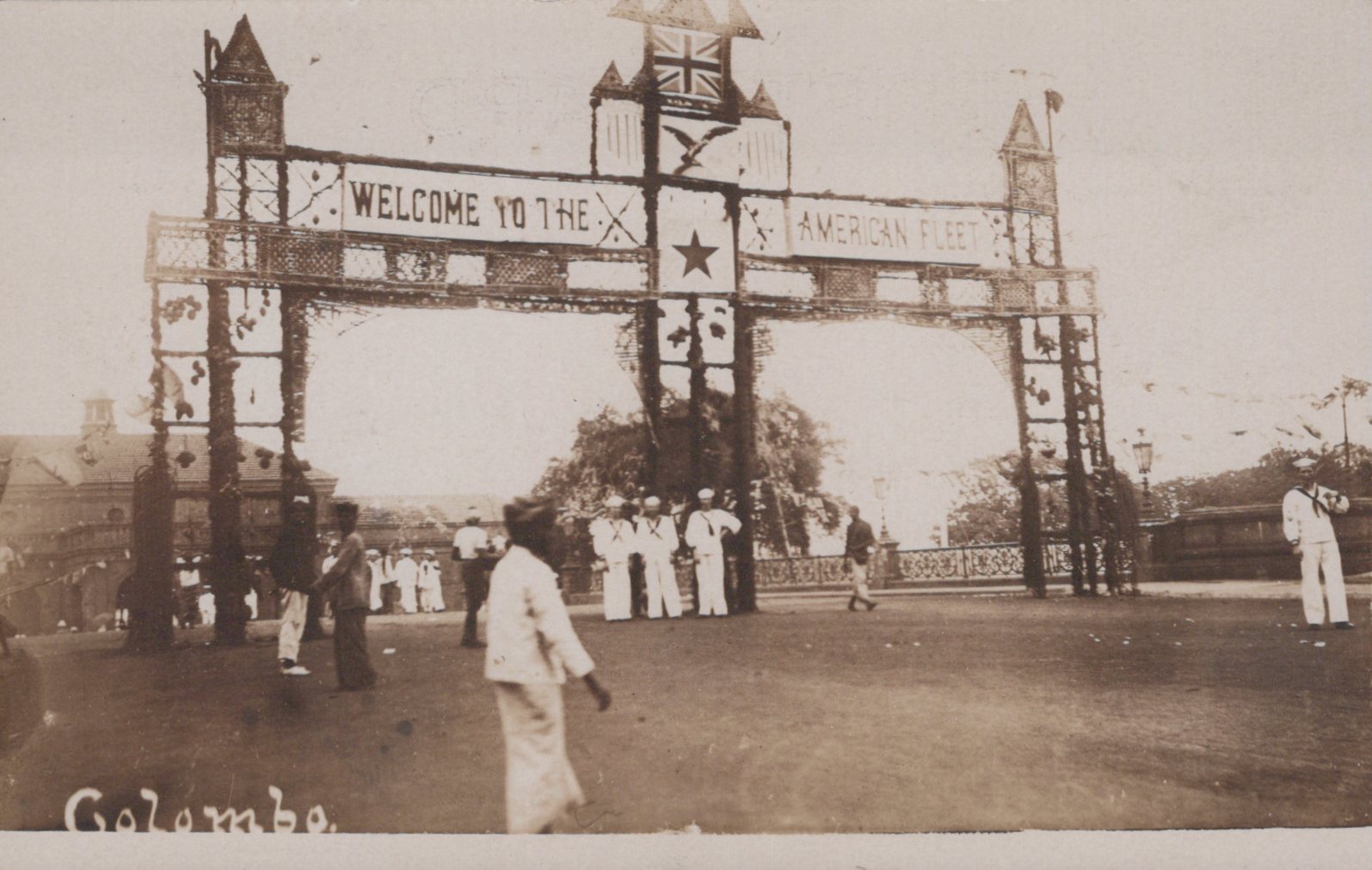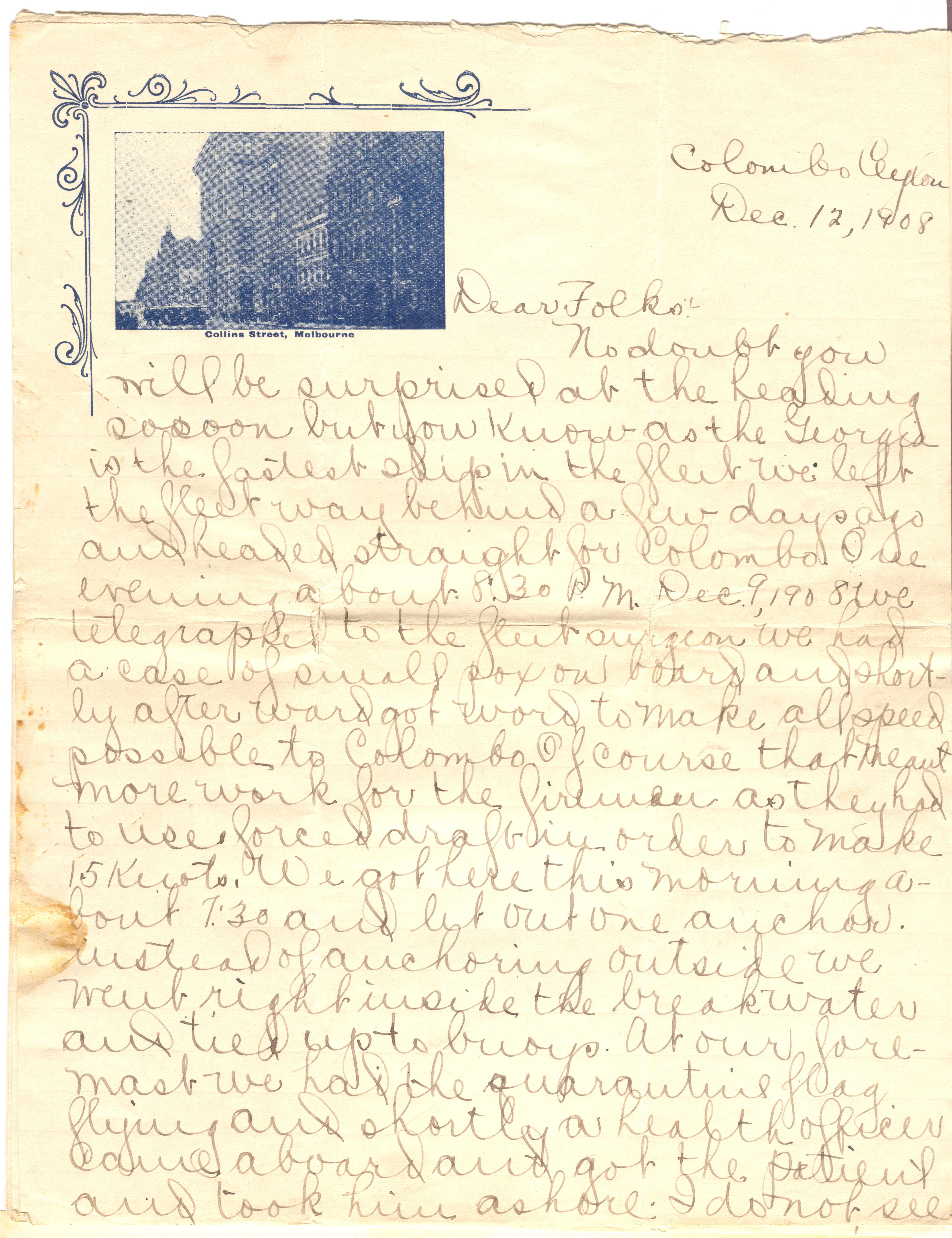 Instead of anchoring outside we went right inside the breakwater and tied up to buoys.  At our foremast we had the quarantine flag flying and shortly a health officer came aboard and got the patient and took him ashore.  I do not see how it was we were not kept in quarantine but soon after we took down the quarantine flag and began coaling ship and we are still at it.  I am not coaling ship because I am on watch now in the dynamo room.  About seven days out from Manila we passed through Malacca Straits and run close by Singapore.  A few boats came out to meet us and as we passed by one boat an American woman hollered out the captain on the bridge through a megaphone "Please take me home with you" believe he would have if we had been alone.  I don't think I will get ashore here at all as only special 1st Class men can go and I am only 1st Class.  The  The fleet is expected in sometime tomorrow Sunday.  It will be the first time we have the fleet since leaving Frisco and I guess it would be the last.  We got mail today and Lucy Storm certainly can write letters.  I either get one or two from her in every mail and I never fail to get hers whether I get one from home or not.  I got one from you today is dated October 25, and that is just a little over one month old.  I got a letter from a girl in Compton California, two from Lucy.  Cards from city contract agent Pacific Telegraph and Telephone Company, one from a fellow in Frisco, and one from a fellow in Santa Paula, California. That is not so bad but it could be better.  That add of Pap's in the paper is quite curious and might do for a pawn shop or grocery store but for a man that has had pops experience in add writing it does not speak very well.  Just to show you how I would put such an add in I  am going to send his back with marks on it showing how I would do it.
My mail from Australia at last.  She was right about the girls.  Yes the Maine & Alabama are back and we soon will be.  Where did you ever get the idea we would be back December 16, I don't think I ever told you.  We are not due until February 12, 1909 and I don't intend to come home until about May or June.  As soon as we leave the Roads in Virginia we go to Cuba for target practice and then back home to the yard. We can not stay where it is cold after coming out of this hot climate.  You get more news thought the paper than we get.  Nay be you think I can't dance I may surprise you when I come home.  Well Mother I guess this will be all for now so will close with best love to all, Your Son Milton W.
port said, egypt - Friday, January 8, 1908
Dear Folks:  As we re coaling ship today and I have nothing in particular to do will try and get a letter off to you today.  This will be chiefly relating to my trip to Cairo and the pyramids which no doubt you will see by the cards.  I sent some time ago our chaplain got up a party to visit Cairo and asked $20 from every man of course I then seen that it was a trip I would never regret so down went my name and $20.  Well things went along all right until he got word tht we was not going to be in Port Said long enough for the trip so then he go permission to leave the ship at Suez and when we returned meet the ship at Port Said.  Well that went through all right.  Then he asked for anoother days leave which cost $5 more and he got it.  Everything was arranged so when we arrived at Suez Sunday, January 3, we had not sooner dropped anchor than we left the ship and
went ashore.  The Chaplain had charge and he was our business manager.  We met our guide who was waiting for us at the station.  We had the best guide in Cairo and many officers and tourists tried to get him but the Consul General had secured him for us before we reached Suez.  We go on the train at Suez and went to Cairo a distance of about 150 miles which took us four or five hours.  It was a sight going across the desert by train and as soon as we arrived in Cairo carriages were waiting for us at the depot which did not take us long to pile in them and go to Sheppards Hotel.  Now two of the best hotels in Cairo are the Continental and Sheppards which cost from $5 to $25 a day.  We were already booked for the Sheppards but they could not accommodate us because 39 men is quite a few so we had to go the Continental where we soon got rooms and began to clean up a little.  We dined at 8 pm and then after dinner we separated and went out on the streets of Cairo and did not get back to the hotel till 1 am.  The married woman wear the black veil and when girls get old enough or when they think they want a husband they wear white veils so do the girls in the harem but these harem girls all ride in closed carriages and never walk.  When a woman gets so old that she does not want to marry or when she is a widow she does not wear any veil.  Monday morning we were up bright and early and got into carriages as soon as wee had lunch and drove to the depot.  From there we took the train to Memphis where camels and donkeys awaited to take us across the Sakira Dessert to the great pyramids.  We soon got under way.  Every donkey and camel had a boy to take care of it.  It was sixteen miles across the desert and the sand in some places was awfully thick.  My donkey boy kept right behind my donkey all the way and when ever the donkey would run he would run to.  We passed a good many tourists on our way.  Our first stop was at the palace of King Mira and his wife.  Our guide told us all about it and it was something like 1800 years BC that it was built.  Queen Mira statue was still there.  On the wall was all engravings of soldiers of King Mira and great things he done and all about the sacred ox.  It did not take us long to go through there and soon we was on our way again.  Our next stop was at The Tomb of the Sacred Ox which is all under ground in big long tunnels.  There was no light in there and we had to use candles.  The Tomb of the Sacred Ox is made of granite and the sacred ox has been taken out so you can see on the inside.  Here is an idea of the shape of the tomb:

We soon got out and was on our way again.  I forgot to say that we also stopped at the mummy of Ramses II which is something worth seeing.  Our only regret was we could not get in to the museum in Cairo on account of it being a holiday.  Our next stop was at the Sphinx but along the trail we passed several grave yards.  At the Sphinx we had our picture taken.  You will notice the face of the sphinx is damaged up.  I will tell you how that happened later it is to long a story now.  As soon as we had our picture taken we got underway to visit the pyramids.  One of these pyramids is 400 and some feet high while the other is 300 and some feet.
After our sixteen mile ride across the desert we were all to tired to stop at the pyramids but instead went right on to the Mina House Hotel where we had breakfast (dinner) at 2 pm.  As soon as our meal was finished we gathered together outside and walked to the pyramids.  It was then so late that we din not all have time to go to the top and go inside too see we split in two bunches and the ones who waned to go to the top went with the guide while those who wanted to go inside went to the chaplain.  Of course me having that climbing nature I was one who started to the top of the one over 400 feet high.  If you had never seen this vast amount of stone which cover 13 acres and some one explained things to you you could not believe them.  To think of anything like getting big rock stone which are 6 and 8 feet long by 3 and 4 feet square it seems impossible that such could have been the case before Christ.  But never the less it is true.  The chaplain on coming in the train remarked that he was glad our crowd had behaved as they had and he said that he always believed in setting the pace.  One of the boys spoke up and said "yes chaplain I always believed that way until I got halfway up that pyramid then I let the guide set the pace."  You see before you can go up you have to have two guides with you, one hold of each hand to prevent you from falling.  I had to rest twice before I got to the top.  On reaching the top I rested again to tired to move.  We witnessed a good thing while up there of an Arab starting from the top of the one wee was on 400 and some feet high going to the bottom running across a space of 400 yards and going to the top of the one over 300 feet high in 9 minutes.  He holds the record for doing it in 8 4/5 minutes.  I had to pay 5 cents or one piaster for a cup of water hardly any larger than a thimble when on the top.  Soon we started to descend again and it was a much work going down as it was going up.  Now if you imagine it is an eay job to climb one of the those I hope some day  you have a  chance.  As soon as our party was together wee went to the railway station and got a car back to Cairo. Our guide had intended to have carriages at the station for us and was very angry because on our arrival there was none there so we had to walk quite a distance to the hotel.  We got there with plenty of time to have a good wash and get dinner which is not served until 8 pm.  After dinner four of us went out to see the streets of Cairo and bought several small articles among which I got a few postcards.  We got back to the hotel at midnight and immediately turned in bed.  The next morning wee was up at 7 am and had lunch.  After lunch we went out in front of the hotel where carriages was waiting for us to take us to the mosque and place of one of Egypt's great men who used to be Abraham Pasche was once ruler of Egypt and was succeeded by his son Ali Pasche.  When Abraham Pasche died his son married his mother and put him in possession.  There is a big long story attached to it and less I forget I will tell it to you sometime.  It certainly was a beautiful place.  The carpet was velvet brussels(?)  and the ceiling and walls with gold paintings or decorations.  In some places the walls had gold inlaid and showed up something swell.  I have sent you an interior view of the mosque so you can see what it is like.  From the palace you can see the old Roman viaduct which was used or built by the Romans when they entered Egypt.  After a short stay there we go into our carriages again and drove to another mosque where the tombs of Abraham Pasche and his wife in one place.  In another part is the tombs of Ali Pasche, his son, daughter and wife or mother.  There was tombs there that to my idea cost quite a sum of money.  It did not take us so long to go through there and soon we entered our carriages again and drove around the streets of Cairo.  It had began to get late so we had no sooner got back to the gate than we were off for the Hotel.  Upon our arrival there we had a rest a was and dinner and then went out on the streets of Cairo again.  It was midnight when I got back and I was pretty tired and had no sooner struck the bed than I was sound asleep.  Everyone was bright and early next morning in order to catch that train for Port Said which would bring us into Port Said about noon.  Before leaving the Hotel they had made up a little lunch for each one of us to take on the train.  It was not much but it held our stomachs until we reached our destination where wee had lunch.  After that wee went around the city which is not much to see.  Our ship had not go t though the canal so we had to report aboard the Kentucky at 5 o'clock pm.  We had supper aboard her and then  turned in for the night.  We got word that the Georgia was stuck in the mud in the canal so that made us wait a few hours longer.  We were soon called out on the quarterdeck ready to be transferred to our own ship.  They had not even had time to lower the gangway so wee had to use the sea ladder.  The whole trip only cost me $43 and I am not a bit sorry i went as there was no liberty in Port Said for anybody for as soon as we had coaled ship we got underway for Marseilles.  On account of the earthquake in Italy and many of the refugees going to Naples and Genoa, we had to change our port.  The Captain wants to get in by Wednesday if possible and so he as been making 12 to 14 knots since leaving Port Said.  On account of a storm which lasted for 48 hours, we could only go ten and eleven knots but we are making up for it now.  While at Port Said we seen them celebrating their last day of Christmas.  They have four days of Christmas.  The funeral party is very odd.  First you see a big mod coming up the street singing and hollering and then following them is four men carrying the coffin or rough box.  At the grave yard there is swings and amusements park where everybody enjoys themselves.  Will have to stop now and write some more when we reach Marseilles.  We arrived here today January 15, this am at about 6 o'clock the light house  was sighted and as soon as it ws day light you could see the city or rather the outline of it as the city itself is set back in.  The fog was so dense that until we had come inside of the breakwater you could not distinguish anything.  We tied up bow and stern to two buoys inside and the Nebraska was right on our heels.  It was bout 11 am before we got through mooring.  The Captain wanted to get in the 14 of January but the weather ws to rough and delayed us.  Nothing has been said about liberty so far but by Sunday they will be sending liberty parties ashore.  I will of course have some more t tell you after I have been ashore but I guess this will hold you until I can get time to write again.  I guess this will be all for now so will close with best love to all, Your Son Milton Willard
Not Found
Apologies, but no results were found for the requested archive. Perhaps searching will help find a related post.